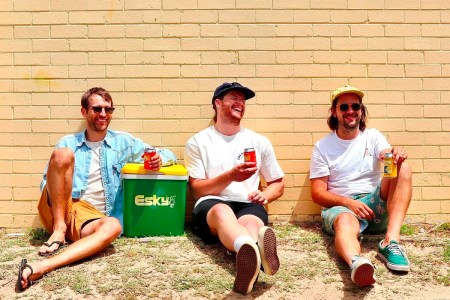 The local council may need to consider officially renaming the suburb of Brookvale to its nickname "Brewvale" as the increasingly gentrified industrial area on Sydney's Northern Beaches gets set to welcome its sixth brewery, all within a one kilometre radius, by this Winter.
After lodging a DA back in September Freshwater Brewing have been granted approval to build their brewery and 120 person capacity taproom with kitchen in a former plastics warehouse at 4 Powells Road. Building works are forecast to start next week ahead of a planned open date in July while they hope, considering their lager-focused approach to their beers, to be brewing on site in May.
Founded by Brett Phillips, Tom Bruce, Jonny Bucknall (pictured in that order above), Chloe Morgan-Webster and Marv Slocombe, Freshwater Brewing will now be the latest to call the 2100 postcode home. The previously most recent of these, Bucketty's Brewing, will be their direct neighbours at the rear, 7th Day Brewery are on the opposite side of Powells Road while Dad & Dave's Brewing are mere metres around the corner. Brookvale institutions Nomad Brewing and 4 Pines Brewery are then all within a stroll, making this tiny pocket of Sydney one of the country's most densely populated brewpub destinations. Although the car yards, mechanics and building supply merchants remain very much the mainstay of the area they are increasingly finding themselves not just calling breweries neighbours but also the likes of distilleries and artisans of all colours.
Whilst a brewery right near the beach it's named after would have been the ultimate, Jonny told Beer & Brewer the adjacent Brookvale was the next best thing and they're looking forward to contributing to the change the area is undergoing.
"There are plenty of people who now look at Brookvale as a different type of district than what they used to.
"I had this guy walk past the other day. I was standing outside with a whole lot of kegs and he was like 'what are you doing?'. So I told him the story of us moving in et cetera and he went 'another one!'. He used to work on Powells Road (back when it was really was just an industrial area), and he went 'I wish I worked here now'. He said it was a dangerous place once upon a time. Now he's super excited by the transformation.
"We'd like to think it's only going to get better."
After entering past an outdoor area the open plan ground floor inside will feature a horseshoe shaped bar with 12 taps, seating throughout and the kitchen for their Asian fusion cuisine while a 10 hectolitre, three vessel system will be at the rear. The second level will house carparks and a storage area.
The founders had hoped for a taproom capacity of 200 but due to the council's carparking demands, which was Freshwater Brewing's main cause for concern throughout the DA process, that number had to be reduced.
"It was a tough pill to swallow," Jonny said. "We've got 10 parking spots and if you go to most breweries that many seems like a pretty decent amount. But based around some equation that (the Northern Beaches Council) do it reduced our capacity.
"We'd like to see that improved in time… (as we) hopefully demonstrate that we're a good addition to the neighbourhood. For now we're obviously just keen to get the doors open."
With two different pilsners – the Dukes and the Freshie – and a Mexican lager (Wedge Cerveza) in their line-up alongside the hazy pale Secrets, Jonny said their focus on crisp, easy drinking styles would largely remain the same when they brewed their own instead of via contract.
But with head brewer Brett "champing at the bit" to get brewing there's a decent list of new releases they're keen to add to their stable.
"(Brett's) pretty much the most chilled guy you'll ever meet but I've never seen him so impatient," Jonny said. "There's only so much talking about beer a brewer wants to do.
"When we do get at it though our focus will remain pretty tight. We want to service our local community and our taproom and anything after that is a bonus.
"We talked about going with a bigger brewhouse but ultimately we felt the shackles of a smaller one will keep us honest."
Complementing Freshwater Brewing's clean approach to their beer styles of choice is their commitment to doing what they can to help local environmental initiatives, like activating and supporting beach clean up programs as well as being signatories of the 1% for the Planet movement – where member organisations contribute at least one per cent of their annual sales to environmental causes.
"Community – that's our reason to exist really. You put the groundwork in and then it doesn't feel like work does it? Being a part of and there for the community is pretty rewarding."
Once open Freshwater Brewing will trade Wednesday to Sunday.