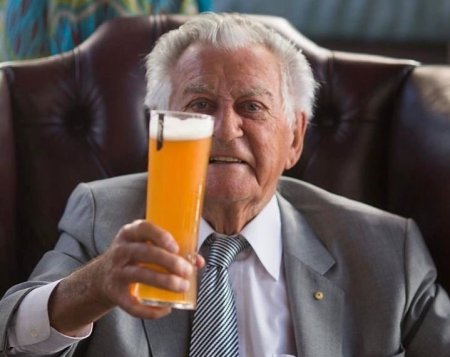 Former Australian Prime Minister and famous beer lover Bob Hawke has launched a new beer brand, the aptly named Hawke's Brewing Co.
Its first beer, Hawke's Lager, will roll out in a shortlist of iconic Sydney venues from today, 6 April.
Hawke's Lager is brewed by Justin Fox, former head brewer at Colonial Brewing Co, with brew production operating out of Port Melbourne. All ingredients used in the beer are 100 per cent Australian.
"I would have been satisfied just meeting Bob Hawke but to be brewing beer for him is a dream come true," said Fox.
Also notable is the fact that Hawke's Brewing Co. has entered into a partnership agreement with environmental not-for-profit, Landcare Australia, with a percentage of the profits from the company's beer sales helping to support rural initiatives around the country.
The partnership reflects Hawke's historical role in driving national support for Landcare; in 1989, he called on all Australians to unite with government to tackle the crisis in natural resource conservation.
Further displaying the ex-PM's ongoing commitment to the environment is the fact that Hawke himself will not receive any financial benefit from the company, with all monies to be passed on as donations to Landcare.
"I hope the efforts of this company will not only bring good friends together over a cold beer but also help raise awareness of the great work done by Landcare," said Hawke.
Hawke's Brewing Co. is founded by two Aussies, Nathan Lennon and David Gibson, who came up with the idea for the brand while working as creative directors for a New York ad agency.
"It was Australia Day, yet we were stuck in an office and it was -5 degrees outside," explained Lennon. "Beers in the sun with our mates [were] 16,000km away and homesickness was setting in.
"Dave and I were chatting about who, given the chance, we'd most like to have a beer with. We both said Bob Hawke. Our conversation drifted to what a beer brand with Bob Hawke might look like, which for us was less about the notion that 'Bob loves a beer' and more about the values he embodies – like giving back to the community and looking after your mates – and then building a brand around that.
"Before we knew it we were back on a Qantas jumbo back to Sydney and drawing up a business plan with our National Sales Manager, Luke Langton, before the three of us were sitting in the former-PMs kitchen, sharing our vision for Hawke's Brewing Co."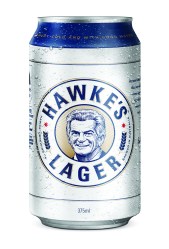 Mr Hawke loved the team's proposal, particularly the ethos of 'giving back', and gave them the go-ahead.
"It's now one year to the day since the three of us met Mr Hawke… What started as a remote dream on the other side of the world is now a dream opportunity to run this really special beer brand in our beloved home country, with the one person we'd most like to have a beer with," said Lennon.
Hawke's Lager is available on tap at 11 pubs (Hawke's First XI) in Sydney and Newcastle from today. Cans are due to hit the market on 25 April, with more beers also in the works for the future.
For more information, head to hawkesbrewing.com.
Hawke's First XI
The Australian Heritage Hotel, The Rocks; The Clock Hotel, Surry Hills; The Clovelly Hotel, Clovelly; The Courthouse Hotel, Newtown; Greenroof, Newcastle; The Kirribilli Hotel, Milson's Point; The Lord Dudley, Paddington; The New Brighton Hotel, Manly; The Prince, Kirrawee; Public House, Petersham; The Sackville Hotel, Balmain