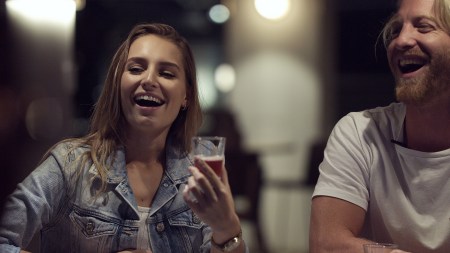 Here's a good way to spend 15 minutes – or if you've got the time, a whole weekend!
Hotel chain Travelodge has created the 'Beercation' series starring Tim Charody (AKA The Beer Pilgrim) and Claire Parker, an Australian model, actress and beauty queen.
The three-part series follows the pair around some of Sydney's top breweries as they taste some of the best craft beers the city has to offer, in a bid to turn Claire – a self-professed beer hater – into a beer lover.
Episode 1 focuses on the Northern Beaches, with Tim and Claire stopping in at Nomad, 4 Pines and Modus Operandi:
In Episode 2, the pair head to Sydney's CBD and check out the Lord Nelson, the Cricketers and Bitter Phew, while Episode 3 features the Basement Brewhouse in Bankstown as well Inner West stalwarts Batch, Young Henrys and Willie the Boatman.
The Beer Pilgrim, Tim Charody, told Beer and Brewer that while he may not have turned Claire into a beer lover, by the end of the shoot she'd become a "beer tolerater."
"I hadn't actually met anyone that hated beer more in my life than Claire, and it was my job to teach her how to love beer – so it was a challenge but also a huge amount of fun."
Claire's preference for sours that evolved during the shoot was also, in Tim's view, not as surprising as you might think, saying that "the further away we got from the traditional beer taste, the more she liked the beer."
"We had to sort of move away from the sours because she enjoyed them! Every brewery or pub we went to I was her all these really tasty fruit sours and I realised hang on, we've got to move away from sours otherwise this whole show is just going to be about sour beers – which is fine by me – but we just needed a bit of diversity in there as well," he said.
As The Beer Pilgrim, Tim had already been to all of the breweries and pubs featured in Beercation, except for one: the Basement Brewhouse at Bankstown Sports Club.
"When they said we were going to do a shoot out there I was surprised… usually when you think of big sports clubs the last thing you think about is craft beer – but this place is amazing! They have rows and rows of taps, with some of the best craft beers and all of them independently owned.
"It just shows how much the industry is going and diversifying, starting to reach new areas of Australia that weren't traditionally craft beer areas," he added. "It's leaving that trendy, hipster world and becoming way more mainstream which I think is just fantastic."
And while he might have already had most of the beers he tasted during filming, Tim says nothing compares to drinking them fresh from the tanks at a brewery.
"That's when beers really sing out to you, when you get them as fresh as possible. Especially the hop forward beers from breweries like Modus, if you can drinks them straight from the tanks like we were doing, and get them as fresh as possible, it's mindblowing – I absolutely love it," he said.
And that's something we can all agree on – and also that a Beercation looks like a mighty fine way to spend a weekend. Check out the Travelodge website for hotels near the breweries, and for more beer stories.