Felons Brewing are once again showing their support for the Brisbane Street Art Festival (BSAF) and for this year's event have teamed up with local born graffiti artist Sofles on a limited release hazy pale.
Following last year's collaboration with artist Leans to mark the festival, the limited to 4,000 cans 5.5% Hazy Pale (440ml) features can art by Sofles (pictured above) that depicts the Story Bridge and Brisbane cityscape. The beer itself features a hop bill of Idaho Gem and Amarillo backed by Pale and Vienna malts and oats.
The BSAF launched on May 7 with its largest program yet while Felons will host a festival party on May 20 at their Barrel Hall. It's free entry and as well as showcasing the new hazy pale it will feature DJs and live artistic performances and bands. Felons are encouraging people to RSVP via the Facebook event page. The BSAF runs until May 22.
The BSAF launched in 2016 and Felons have supported it since 2019. Their brand manager Dean Romeo said it was "incredibly important" for them to support the local artistic community.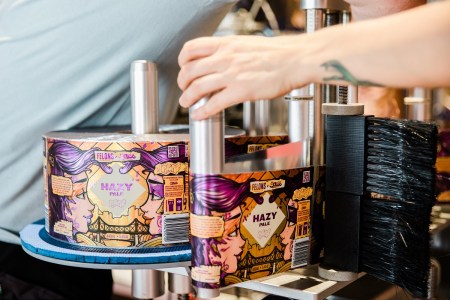 "Without this artistic freedom of expression, we wouldn't have the colourful city that we have today," Dean said.
"Historically, breweries have been an important meeting point for the community to come together, a place for them to drop their shoulders and relax in good company whilst having robust discussions about anything from the weather through to cultural experiences. It is with this in mind that we are proudly supporting the Brisbane Street Art Festival for another year."
Brewery director Tom Champion said: "Our team of passionate brewers were inspired to lean into a style of beer which is rising in popularity amongst consumers. Hazy Pale utilises bold US grown hops Idaho Gem and Amarillo to express lovely aromas of bubblegum, berry and citrus. Smooth, soft and juicy, it's a savoury treat which will have you coming back, sip-after-sip".
For more information on the BSAF head here.