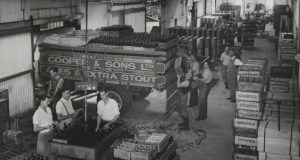 A new barley variety has been named after Coopers' original brewery site at Leabrook, with the family brewers likely to make it their malt of choice.
Barley variety W14896 has been bred by the University of Adelaide at its Waite Institute. Leabrook passed the Stage 1 malt accreditation in March, if it passes Stage 2 in March 2020 it will become an accredited malting variety.
The barley itself is closely related to Compass, which was also bred by the University of Adelaide and is currently used by Coopers as its standard malt across its range.
However, the Leabrook has been found to produce a higher yield and a higher malt extract than other varieties, making it an attractive option for Coopers. The brewery made a test batch of beer with Leabrook barley that it malted itself last year as part of the accreditation process.
Two more batches are set to be malted at Coopers' new 54,000-tonne malting facility and Dr Doug Stewart, Coopers' malting manager, has said that if all goes well in testing and if Stage 2 accreditation is achieved then it is likely that Leabrook would eventually replace Compass as the brewery's barley of choice.
"There were no problems at all, so we're very enthusiastic that it will be a good replacement for Compass," says Dr Stewart. "The variety Compass is very much in line with the domestic brewing industry, so I think the new variety will find its way into a number of different domestic beers, including some craft beers.
"It will certainly keep that Compass type of barley around for longer, which is a style of barley and malt that we enjoy.
"Coopers has been involved with the breeding program at the University of Adelaide for many years and we have ongoing research projects with them as well so it's a lovely touch that they've agreed to name it after our original brewery site."
In addition, Coopers Brewery has also seen Louise Cooper, daughter of managing director Tim Cooper, join the company.
Louise Cooper has degrees in law and health sciences, and has worked as a lawyer for more than seven years. She joins Coopers as legal affairs and risk manager, and is the third member of the sixth generation to take up a full-time role at the brewery.
"Family members are not guaranteed a job at the brewery just because they are a Cooper," comments Tim Cooper. "They are encouraged to establish their own careers, and, if a position becomes available, they may be invited to join the company."
"I have always been interested in working at the brewery, but I understood I had to make my own way and worked in a number of different areas of law before I was offered a position at Coopers," adds Louise Cooper. "Now that I have joined, I'm looking forward to developing my understanding of how each area of the brewery operates and interacts.
"There's no shortage of talented sixth generation Coopers who have expressed an interest in joining the brewery should they be asked. So, while it's far too early to talk about future management, Coopers will certainly remain in secure hands."