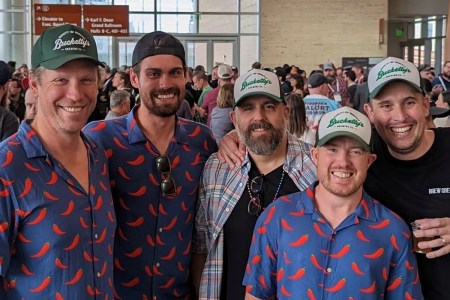 Two-year old Brookvale brewery Bucketty's has claimed their second World Beer Cup medal in as many years after their Sunday Bitter took silver in the English Mild or Bitter category at today's ceremony at the Craft Brewers Conference in Nashville, Tennessee.
They were the only Australian brewery to pick up a medal at the awards which this year received 10,213 entries across 103 separate beer categories. New Zealand's Garage Project were their country's only medalist after they won silver for their Chance, Luck and Magic (2020) wild gueze in the Belgian-Style Sour Ale category.
You can view the full World Beer Cup results here.
Bucketty's result means the Northern Beaches locals went one better than their breakout win last year at the world's biggest beer awards when they took bronze in the session beer category for the Pale Ale No.2. This year they were pipped to the gold by Florida's First Magnitude Brewing's Drift session brown ale while bronze went to Texan brewery Saint Arnold's Amber Ale.
Speaking to Beer & Brewer from Nashville, where he and the Bucketty's brew team had been in attendance, founder Nick McDonald (pictured above on the far left) said they couldn't be happier.
"We're totally blown away, and being here for the event, hearing our name called out in front of 5000-plus other brewers, was so incredibly humbling. We all went nuts and they paused the show to film us going bananas!
"Having five of us here from the team to experience that moment in person was pretty special too. One of those moments we'll cherish forever I reckon.
"It's such a great endorsement for the brewers too, sometimes their work gets lost behind the venue and live music, so winning this adds further fuel to the fire of making the best beer possible."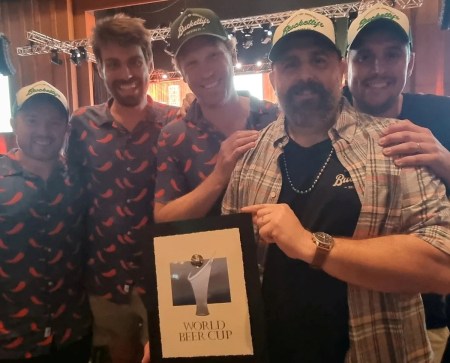 Judging for the World Beer Cup took place over 18 sessions and nine days. A panel of 272 judges from 26 countries evaluated 10,213 entries from 2,376 breweries representing 51 countries.
Australian breweries accounted for the fifth most entries in the awards with 152. The United States were top with 8,135, Canada second with 444, Japan third on 223 and Germany fourth with 189.
"The World Beer Cup brings together the finest brewers and beers from around the globe and celebrates creativity, craftsmanship, and passion for great beer," said Chris Williams, World Beer Cup competition director. "Receiving a World Beer Cup award is a testament to quality and innovation, and we commend this year's winners for setting the bar higher than ever."
Next year's World Beer Cup is in April when the Craft Brewers Conference heads to Las Vegas.