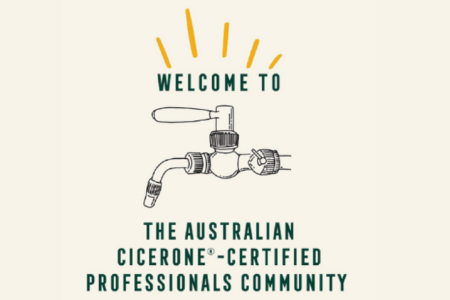 The Australian Cicerone® – Certified Professionals Community (ACCPC) has launched with an aim to support continued education and training of this country's beer professionals.
Launched by Lion's former craft beer ambassador and Advanced Cicerone® Paul Daley, the association will look to support continued education through offering Cicerone®️ Certification exam proctoring, off flavour and tasting exam practise sessions, bi-monthly live, virtual education sessions covering areas of the Certified and Advanced Cicerone®️ syllabus as well as hosting community activities and events. The first events are detailed here.
Other members of the ACCPC leadership team are the sensory and quality coordinator at Stomping Ground Lindsay Astarita, the Drinks Adventure's James Atkinson, 100 Proof's head of trade marketing Steven Blaine, Maker's Mark diplomat Rhi Lucas, group operations manager at LocalsCo Matt Marinich, Stomping Ground rep Cassie O'Neill, events and community manager at Local Drinks Collective Liam Pereira and Nowhereman Brewing's director of operations and group development Pia Poynton. Liam (NSW), Lindsay (VIC) and Steven (WA) will also serve as exam proctors in their respective states.
Paul, who will take up the role as BentSpoke Brewing's national field sales manager next month, told Beer & Brewer the community came about as a way to maintain knowledge for those already certified within the Cicerone® Certification Program and to help others reach that same bar.
"It's a high level of knowledge that you have to obtain but it's easy to fall off unless you're constantly practicing it and interacting with the community that shares that same knowledge," he said.
"If people are to understand the value of the Certification Program, I feel there should be some sense of how people are developing their knowledge in the right way while people have confidence that they're going to get to the level that the title represents.
"I'd hope the community can grow (the Certification Program's) influence and what it stands for. And we want to give back to the industry and ensure that it doesn't decline but moves forward with vibrancy."
Paul said the community wasn't an official offshoot of the Cicerone® Certification Program but that they had the program's blessing to use the registered name.
"Certification in other (drinks) categories are well looked after in Australia but for beer not so much. If we can see an uptick in registrations and pass rates that's obviously going to mean a successful outcome for Cicerone®️ but also show them that what we're doing is important.
"I'd love to get to the point in Australia that recruiters on LinkedIn are typing in 'Certified Cicerone' when they're looking for someone to work in their business because they understand the value of that title."
Paul added that they hope to launch a ACCPC scholarship in 2024 where they will fund and coach people through the program.
All platforms to engage with the Australian Cicerone®️ – Certified Professionals Community can be accessed via https://linktr.ee/auciceronecommunity.