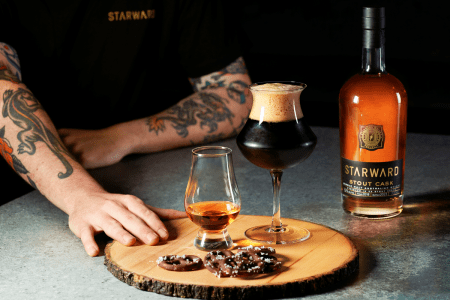 Starward Whisky has launched Stout Cask – a single malt whisky that celebrates the use of barrels in both distilling and brewing.
The Port Melbourne based distillery's team features a number of ex-brewers and they've combined their experience in both fields on the limited release. They selected maturing whisky from Starward's signature red wine and small format Apera barrels which was then enriched for a further 18 months in barrels formerly used by Brick Lane Brewing's Trilogy of Fear imperial stout series.
Starward production director Sam Slaney said: "We love the change of seasons at Starward, and the colder weather means the perfect time for a stout.
"Brick Lane's amazing Trilogy of Fear series showcases complex dark malt and a rich texture, allowing our whisky to soak up all the robust flavour from these stout-soaked barrels. This limited release has been brewing for some time and we couldn't be happier with the result."
Bottled at 52% ABV, Starward said Stout Cask incorporates rich roasted characteristics perfectly balanced with their classic Starward tropical fruit and vanilla.
"With notes of cacao, stone fruit, and chocolate malt biscuits, it's delicious sipped neat but even better as a boilermaker. Our favourite pairing is with a barrel aged imperial stout, but it works equally well alongside any craft beer."
People seeking such a pairing are in luck as Starward have partnered with select venues across Australia to offer Stout Cask boilermakers from May 20 for a limited time. Stout Cask is otherwise exclusively available via ballot at Starward.com.au.