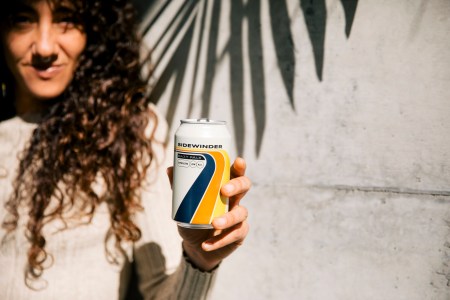 Having found success crafting award-winning and vastly popular low alcohol beers for other brands, Brick Lane Brewing have now entered the burgeoning drinks category themselves with the initial release in their new Sidewinder series.
The first in what Brick Lane say will be an extended Sidewinder range is a 1.1% ABV Hazy Pale Ale to be released nationally on August 2, including in all Dan Murphy's stores. It utilises Munich, Crystal and Carapils malts plus rolled oats to enhance body, while Citra, Mosaic and Centennial hops have been called on to deliver the expected tropical fruit notes. The Melbourne brewery said a unique yeast management approach gave the beer "full and refined flavour while keeping the ABV down to 0.3 standard drinks per can".
"We've… leant heavily on everyone's expertise in every step of this beer, from raw material selection, yeast management and brewing, through to packaging," head brewer Jon Seltin said. "Every stage has the potential to influence how a beer will ultimately greet the drinker and with low alc, there's nowhere to hide."
Following Brick Lane's announcement in June they are to undergo a $50 million expansion, Sidewinder's arrival comes after a period of sustained success for the non-alcoholic beers they've been contract brewing on behalf of Coles, Heaps Normal and Nort.
The Coles-owned Tinnies Ultra Low-Alc Hoppy Ale won the Best Non-Alcohol Beer at the 2021 Australian International Beer Awards, which backed up last year's success at the UK's World Beer Awards where it was named the country winner for best low alcohol Pale Ale. Meanwhile, both Heaps Normal's Quiet XPA and the now extended Nort range have become some of the main flag bearers for the increasingly popular range of independent, Australian-made low alcohol craft beers.
"There has never been a more exciting time to enjoy the beauty of beer," Brick Lane's founder Paul Bowker said. "Sidewinder has been launched to capture the full flavour of modern brewing in a low alcohol option."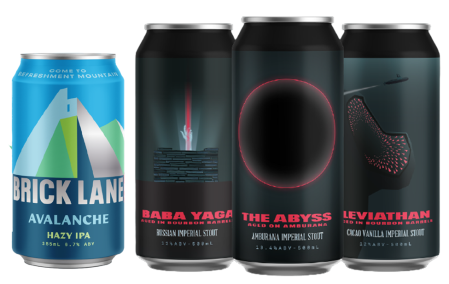 It's been a busy week or so for the Dandenong South brewery, with the launch of the Sidewinder series complemented by the latest instalment of their Avalanche Hazy IPA Winter seasonal landing and the arrival of their first barrel-aged beers – the Trilogy of Fear Imperial Stout triptych.
In their third Avalanche Hazy IPA (6.7%, 355ML), the Kiwi hop trio of Motueka, Wai-iti and Riwaka (alongside some US Strata) take centre stage while the Trilogy of Fear 500ML cans are: the Baba Yaga Russian Imperial Stout (12.0%); the Abyss Amburana Imperial Stout (10.4%); and the Leviathan Cacao Vanilla Imperial Stout (12.0%).