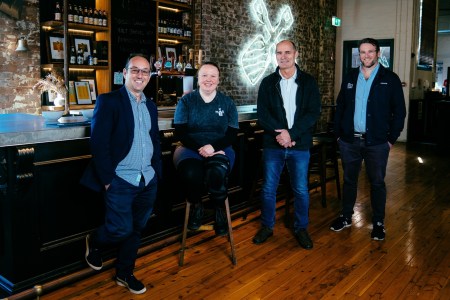 Greater Sydney's COVID-19 "national emergency" has been the catalyst for the two worlds of beer to combine on a limited-edition release to mark Freedom Day – an initiative launched by the clubs industry to celebrate the day NSW meets its vaccine threshold.
Lion, representing the big end of town, and Batch Brewing, the indie brewers from Sydney's Inner West, are collaborating on the beer that will be brewed at Lion's Malt Shovel Brewery in Camperdown and then be offered free to any one of age who has been fully vaccinated on "Freedom Day" – the day the NSW population reaches its optimal vaccination threshold to allow "normal" life to resume.
The Freedom Day free beer campaign is the brainchild of ClubsNSW and Australia CEO Josh Landis and Batch's co-founder Andrew Fineran.
"We want to make sure that Australians never have to endure another COVID-19 lockdown again. To do that, we need everyone to literally roll up their sleeves and get vaccinated — and what better way to encourage them than with a free beer at their local club!" Josh said. "Clubs are all about supporting the health and wellbeing of their local communities, and we are so grateful to Lion and Batch for getting behind this campaign and helping clubs do what they do best."
Lion Managing Director James Brindley said: "When Andrew from Batch called me to see if Lion would be able to provide additional production capacity to make this extremely special beer, I couldn't say yes quickly enough. I think we are all looking forward to celebrating when we finally reach this important milestone. These venues are the heart of our communities, and there's nothing better than a cold draught beer with your family and friends at your local".
Andrew said the idea was simply to give us all some hope and something to look forward to.
"We can't wait to work with Lion's team at Malt Shovel, including the legendary Dr Chuck Hahn, to make something really special to mark this milestone."