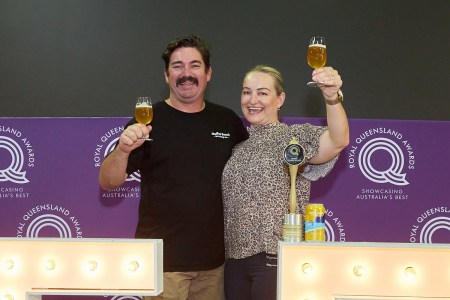 For the second time in three years Moffat Beach Brewing's Moff's Summer Ale has been judged Grand Champion at the Royal Queensland Beer Awards and marks just the latest silverware for the Sunshine Coast brewery at major Australian competitions.
The 4.5% session IPA with a very big reputation first won the Royal Queensland's top gong in 2020 while at last year's Independent Beer Awards it won Champion IPA having won Champion Session Beer at The Indies in both 2021 and 2020. This was also the fourth Royal Queensland awards in a row where it has won Champion Session Beer.
Moff's latest win sees the brewery win a $5,000 Lion bursary and opportunities to be showcased during the Royal Queensland Show (Ekka).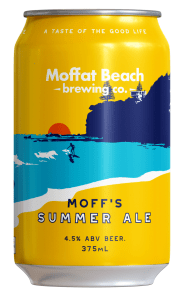 Judge Steve Henderson said it was a well-made, easy drinking beer produced by a team of very talented brewers.
"Moffat Beach has demonstrated in this competition they can make a good beer, year after year. The fact they won Grand Champion in 2020 and have backed it up again this year, shows they're a high-quality brewery consistently outperforming the rest of the industry."
At the Queensland awards, Moffat Beach, founded by Matt and Sharynne Wilson (pictured above), also took out the small-to-medium sized champion brewery award to go in the trophy cabinet alongside last year's Champion Medium Brewery at The Indies and Champion Small Australian Brewery at the 2022 Australian International Beer Awards (AIBA).
This year's Royal Queensland awards was also an opportunity for Melbourne's Stomping Ground to return to the winner's circle as their own success of late continued as well.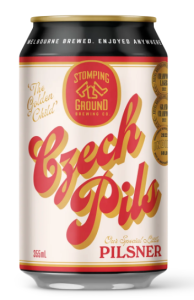 After winning Grand Champion beer at this competition last year, Stomping Ground's Czech Pils backed it up by again winning Champion Lager while they were also judged Champion Large Brewery for the second year in a row and won Champion Amber-Dark Ale for their Upside Down Brown. These accolades come after the brewery was judged, among other major awards of late, Champion Medium Australian Brewery at the 2022 AIBA and Champion Large Brewery at The Indies in 2021.
There were also good wins far from home for WA breweries with Nail Brewing's newly acquired Billabong Wheat taking home the trophy for Champion European Style, while Wilyabrup's Black Brewing's excellent Bao Bao Milk Stout received the Champion Porter-Stout prize which was part of their core range's 10-medal haul with their Hazy Pale and Lager winning golds.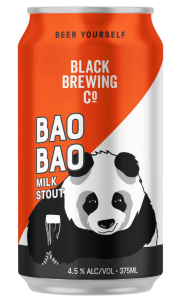 Black Brewing's head brewer Gavin Williams said: "We have been working really hard on our core range and seasonal beers and are blown away to receive this recognition. It's great to represent WA and highlight the quality that we have on offer in the South West".
This year's Royal Queensland Beer Awards received a record 663 entries, 15 per cent up on last year, which were judged by 50 experienced brewers, sensory experts and industry figures over two days.
"There was a marked improvement in the standard of beers this year," Steve said. "One of the areas that improved the most was non-alcoholic beer, which has just gone from strength-to-strength. You don't even know they're non-alcoholic beers when tasting them – it wasn't like that a few years ago."
The Royal Queensland Beer Awards also recognises up and coming brewers, through the Best New Queensland Craft Brewer of the Year award. Josh Batten from 10 Toes Brewery on the Sunshine Coast claimed the award and will now have his beers sold at The Star outlets across South East Queensland.
You can view the full results catalogue here.
TROPHY WINNERS
CHAMPION PALE ALE SUPPORTED BY YAKIMA CHIEF HOPS
Glass House Brewery – Tropical Pale Ale Draught
CHAMPION AMBER DARK-ALE
Stomping Ground Brewing Co – Upside Down Brown Draught
CHAMPION PORTER-STOUT SUPPORTED BY KONVOY KEGS
Black Brewing Co – Black Brewing Co Bao Bao Milk Stout Draught
CHAMPION HYBRID BEER SUPPORTED BY SHOOBRIDGE TRANSPORT
Bacchus Brewing Company – Critical Dramage Packaged
CHAMPION LAGER SUPPORTED BY BARRET BURSTON MALTING
Stomping Ground Brewing Co – Czech Pilsner Draught
CHAMPION INDIA PALE ALE SUPPORTED BY HPA
Range Brewing – Power Trip Packaged
CHAMPION EUROPEAN-STYLE ALE SUPPORTED BY BREWS NEWS
Nail Brewing Australia – Billabong Wheat Draught
CHAMPION SESSION BEER SUPPORTED BY YAKIMA CHIEF HOPS
Moffat Beach Brewing Co – Moff's Summer Ale Draught
CHAMPION STRONG BEER
All Inn Brewing Co – All Inn Brewing Co Red IPA Draught
CHAMPION MIXED CULTURE BEER SUPPORTED BY KEGSTAR
Hound & Stag Brewing Co – Red Baron Draught
THE STAR ENTERTAINMENT GROUP BEST QUEENSLAND BEER OF SHOW
Moffat Beach Brewing Co – Moff's Summer Ale Draught
KONVOY KEGS BEST NEW BREWERY
Scarborough Harbour Brewing Co
HPA CHAMPION SMALL/MEDIUM BREWERY
Moffat Beach Brewing Co
CRYER MALT CHAMPION LARGE BREWERY
Stomping Ground Brewing Co
CHAMPION BREWPUB
Scarborough Harbour Brewing Co
THE STAR ENTERTAINMENT GROUP BEST NEW QUEENSLAND CRAFT BREWER OF THE YEAR
Josh Batten – 10 Toes Brewery
RALLINGS GRAND CHAMPION BEER
Moffat Beach Brewing Co – Moff's Summer Ale Draught
---