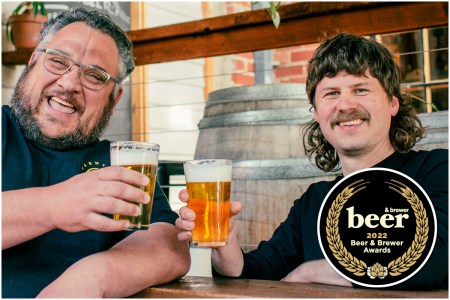 "We're just seeing light at the end of the tunnel, so there's no point falling over now."


Ben Carwyn, on the left, with Ben Duval
---
Throughout Covid times plenty of beer-related businesses have battled with the reactionary voices in their heads claiming the best way to navigate all the uncertainty is through consolidation and conservatism. "Don't take risks!" they heard them shouting, often in the still of the night when rib deep pangs from their worst economic fears had them tossing and turning.
Admittedly it would have been fruitful advice for some, but time and again the complete opposite attitude, of going all in and sticking to the things that were successful in the past, proved the best way for others in the industry to silence the doubts. From a brewery perspective, just look at Mountain Culture or Deeds as prime examples, with their rigorous limited release schedules throughout the pandemic completely flying in the face of any calls for temperance and helping take them to places of growth and stability.
And Carwyn Cellars, the overdue winners of our Best Beer Venue of the Year award, are testament to the same mindset and outcomes. Despite the sticky situation of being a hospitality venue in the most locked down city in the world, the team behind the Melbourne institution are dusting themselves off from "easily the toughest Winter" financially in their history and were moving on to the next grand plan, bigger and better than the many before it that have helped cement them as one of this country's eminent craft beer havens.
When we spoke to Ben Carwyn and Ben Duval from Carwyn Cellars for this feature they were putting the finishing touches on their appropriately named Pure Insanity event, where they were granted full access to The Bruery's cellar stock of the famous Black Tuesday bourbon barrel aged imperial stout. With 20 variants on tap, no beer had an Untappd ranking under 4.3 or an ABV below 18.0%. Then, at the time our Summer magazine went to print, they were readying to press go on their single most expensive shipment of beer ever for a January event to kick-start a New Year calendar like no other. The plan was to host Australia's first ever tap takeover from one of the world's most hyped barrel aged breweries, with blanket tap coverage and a huge array of bottles including access to their imperial stouts.
Clearly no one's saying these guys plan on playing it safe anytime soon.
"We don't know any other way to do it," Ben C said, adding "you've just got to keep doing it. We've just got through the worst of Covid and we're just seeing light at the end of the tunnel, so there's no point falling over now."
Ben D: "It was easily the toughest Winter we've been through (and) it would have been easier to go conservative. But we've stuck to our guns and kept pushing the envelope because we want to keep doing the things we're good at and what we're known for.
"It harks back to the original philosophy of why Ben (C) backed me to run the beer program as I saw fit. I always went with the attitude of 'if you don't ask the question, you'll never know'. It's surprising just how many people end up saying 'yes'.
"At times I do feel sorry for our regulars, when all our taps are tied up for two or three weeks with monster imperial stouts. But then in saying that, they're not the most 'regular' of regulars in the sense that they've grown with us and their palates and drinking habits are pretty epic regardless."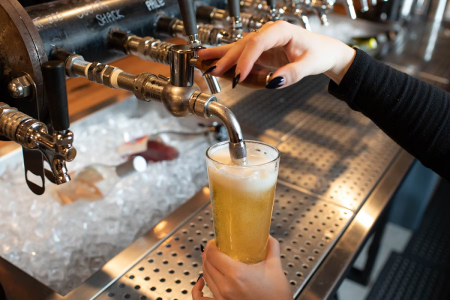 Speaking of those punters, the Bens said that from their side of the bar they've seen the average drinker's attitude shift this year from one of slight trepidation, brought on by the fear of the pandemic and too long in lockdown, to relative normality as they flex their community spirit in their local once again.
But concurrently, and a representation that businesses like themselves aren't out of the woods yet, they've also seen that same patron be not quite as free flowing with their hard earned as they are proving to be once again with conversation.
"I'll be glad when it's over," Ben C said when imagining what his overarching attitude will be at the end of 2022 – the same year that marks the 15th anniversary since he established the bottleshop side of the now multi-faceted business just down the street from their current Thornbury location.
"We're quite a big organisation now and from a purely business point of view, we've looked at it each week and gone 'uh, we're just not getting anywhere'. But it's just now picking back up."
One thing helping in that resuscitation is the public's thirst for lager again, with the Bens saying it's undoubtedly been the year for the style in the venue and further afield, which was illustrated by White Bay's standout win at the Independent Beer Awards in October for their flagship German-style Pilsner.
In a move to sate those cravings, but more for selfish reasons because staff were insistent on having it as a knock-off after every shift, they've installed Hop Nation's 2021 Australian International Beer Awards' Best Pilsner trophy-winning Rattenhund as their "first and only" permanent tap – a LUKR side-pull no less (pictured above).
With the Bens having a pint of it when we spoke, they said the maturation of the Australian craft beer industry, that they've seen grow with them, will be the reason why we'll see more and more lagers in core ranges and the style claim back some of its notoriety that has been lost in the haze.
"For us, one of the hardest taps to fill is that everyday lager because, and this may sound bad, there is a lot of just OK quality lager being made by Australian craft breweries," Ben C said. "And that's because it hasn't been taken seriously for the last five years because hazies were the thing and (lagers) didn't sell very well.
"And then Hop Nation saw that and went 'if we're going to do it, we're going to do it well' (it's traditionally brewed using Floor Malted Bohemian Pilsner Malt, partnered with Saaz and Spalt Select hops and fermented with a Bluestone Pilsen strain, before an eight-week extended lagering).
"(Hop Nation) have already told us that if we run out they're not taking it out early to service the permanent tap. They'll only release it to us when it's ready. And that means a lot to us.
"Lagers are being embraced by the public in general and there are a lot of quality lagers coming out of Aussie breweries now, which is amazing. And that's because they're taking them seriously, with quality ingredients and investing the time.
"Not everyone is excited about lagers yet. But I think some of the people that may have bagged us last year for having Banks' (Extra Foam North German Lager) in our Canvent (calendar) will be saying this year 'where's my lager?'."
carwyncellars.com.au
What the judges said:
"It's got to be Carwyn. Their diversity in offering, expertise, engagement and hospitality of staff are all exceptional. They're also passionate about broadening people's enjoyment and knowledge through events and industry involvement."
"You never leave disappointed, rather always excited."
Previous winners:
2014 THE TAPHOUSE, NSW, 2015 THE LOCAL TAPHOUSE, VIC, 2016 THE UNION HOTEL, NSW, 2017 BITTER PHEW, NSW, 2018 DUTCH TRADING COMPANY, WA, 2019 THE TAPHOUSE, NSW, 2020 BITTER PHEW, NSW, 2021 ROYAL ALBERT HOTEL, NSW
You can view all of our 2022 Awards coverage here.
---