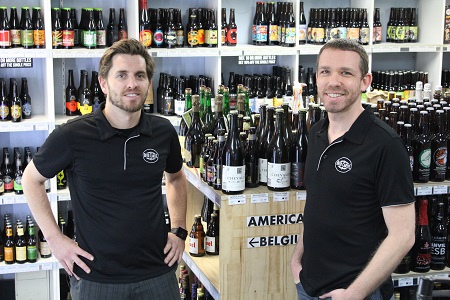 Beer Cartel is celebrating its 10th birthday by overhauling its business to enlarge its focus on canned beers and increase variety and limited releases.
Richard Kelsey and Geoff Huens founded Beer Cartel in October 2009 as an online craft beer store. The business originally operated out of a local Kennards Wine Self Storage shed, before acquiring a store and warehouse in Artarmon on Sydney's North Shore.
Initiatives planned to celebrate its 10th birthday include the relaunch of its monthly beer subscription. In the past decade, it has shipped over 30,000 craft beer subscription packs to over 5,000 members, but Kelsey believes it's time to change things to reflect how the market has evolved over the past five years.
Beer Cartel's new subscription offer features more limited releases and only a single can of each, meaning more variety in each pack.
"Not only have we seen that craft beer drinkers love trying a variety of beer through products like our Beer Advent Calendar, but we surveyed members who clearly told us that limited releases and variety were at the top of their wish list, so we've revamped our offer accordingly," says Kelsey.
"We've kept it as a monthly subscription, but the pack formats have changed, including a shift to all cans. We have three tiers to the beer subscription with these varying by pack size and the mix of new and limited release beers.
"We've got a starter pack – the Bootlegger – that has got six beers; a middle of the road pack called Speakeasy that has 12 beers, and what we call the Black Market pack, which is 12 beers but it's all limited release beers that haven't come out in the market before. So we're really going to focus on driving that."
The new offer had been soft launched over the past couple of months to gauge feedback. Kelsey said the response had been overwhelmingly positive and its tenth birthday celebrations were the perfect time for the official launch.
Alongside the new offer, this month's subscription packs will include an anniversary beer, a red IPA brewed in collaboration with Ekim Brewery, which is also celebrating its tenth anniversary.
"We have a bit of a soft spot for red IPAs and considering that Ekim is an IPA centric brewer, who just happened to also be celebrating its 10th birthday, a collaboration beer between us was an absolute no brainer," he said.