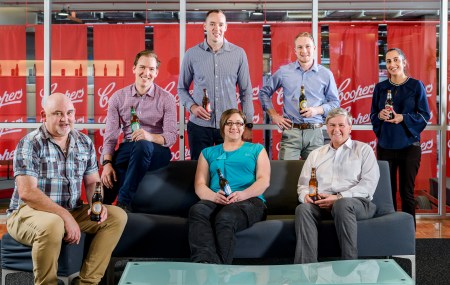 Coopers Brewery has bolstered the number of qualified brewers among its ranks, with seven more employees earning international qualifications.
The staff members, who work across varying areas of operations at Coopers, have all graduated from the Institute of Brewing and Distilling (IBD) in the United Kingdom.
This brings the number of qualified brewers at Coopers to 13.
"We place great importance on ongoing professional development at Coopers," says Dr Tim Cooper, managing director and chief brewer of Coopers Brewery, who served a term as president of the IBD when the newly qualified brewers received their diplomas. "We encourage all our people to continue to develop and broaden their skills and knowledge, so we remain at the leading edge of our industry.
"The art of brewing has become far more technical and involved over the years, particularly as the beer industry evolves with the introduction of advanced manufacturing processes and the entrance of new products and styles into the market."
The IBC is the largest global professional body representing brewers, distillers, maltsters and cider makers. It has almost 4,000 members in 102 countries.
The IBD diploma qualifications are internationally recognised for their technical rigour. The course covers brewing science in depth, from malting and fermentation to maturation and packaging, incorporating relevant aspects of biochemistry, microbiology, engineering and other disciplines.
The seven Coopers employees to receive the diploma are quality control technician Paul Askew, services engineer Tim Blight, laboratory technician Gurpreet Brar, maintenance manager Mark Elverd, brewhouse operatore Lucas Homan, maltings operators Daniel Osborne and control systems engineer Bettina Pickering.
"To successfully combine advanced study of this nature alongside day-to-day work commitments demonstrates the high calibre of this cohort," says Cooper. "While Tim, Lucas and Daniel are directly involved in our brewing cadetship program, Paul, Gurpreet, Mark and Bettina are longer standing members of the operations team and undertook this study to broaden their understanding of the beer industry.
"This is a wonderful result for all these highly motivated team members and we're very proud of their achievements."