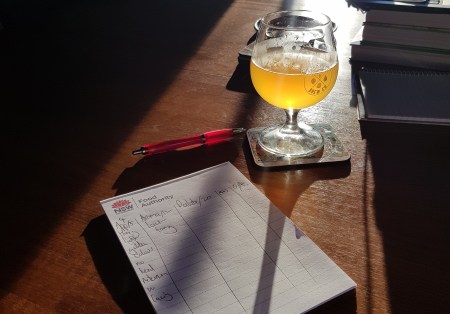 Each issue of Beer & Brewer features reviews of the latest and greatest beers, ciders and brewed hard seltzers by some of the best sensory experts in Australia.
In our Autumn magazine, that is out now, the likes of Tina Panoutsos, Scott Hargrave, Ian Kingham and Neal Cameron ruminate over 106 different releases that span everything from a Berliner Weisse to a Grodziskie.
And as we do each issue we highlight the ones that stood out above the rest in our Panel's Top Picks section.
These are those 16 outstanding beers: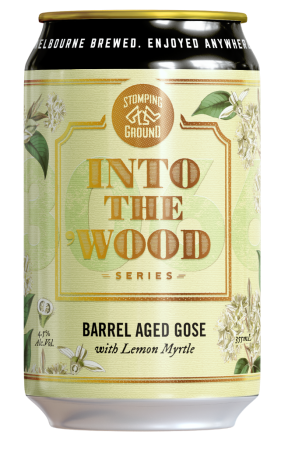 Stomping Ground Into The 'Wood Barrel-aged Gose (4.5%)
Lime peel and lemon juice greet you on the nose, with a good and balanced yeast presence. There is a very subtle note of pine nut, soft sherbet and a skosh of eucalyptus gum accompanying the lemon myrtle, with a whiff of nashi pear right on the back of the nose. The barrel doesn't aggressively play into the beer instead lending itself to a nuanced layered nose and a structured palate, allowing the complex herbal and fruit notes to dance. The perfect word to describe this beer would be 'intricate'. The saltiness hides in the exceptionally beautiful nose, but pushes forward in the palate. This has a soft as silk mouthfeel with low sourness, but a moreish dry finish as if drinking an exceptional dry Chardonnay. stompingground.beer
Margaret River Brewhouse Panther Cream Imperial Stout (10.4%)
Brewed to be big, Panther Cream is a behemoth 10.4% barrel-aged Imperial Stout aged in peated port barrels and features a lengthy grain bill that includes oats, roasted barley and chocolate malts. The oily black colour, velvety mouthfeel, lengthy finish and dense, everlasting mocha head are all by-products of a cleverly concocted grain bill that is underpinned by a robust hopping regime. The 55 IBUs help strike a balance between sweet, chocolatey decadence and grassy bitterness, all effortlessly unifying with notes of prune, vanilla and fortified wine from the two months of barrel ageing. Alcohol is evident but not overbearing, easily undercut by notes of coffee and fudge, adding to a lasting, complex palate and aroma. margaretriverbrewhouse.com.au
Wayward Brewing Hazy Mid Hazy mid-strength (3.5%)
Pouring with a definite haze, it's pale gold with a fluffy, pure white head that sticks around. Peach, mango, nectarine and prickly pear fill the nose plus notes of ripe lemon, lime and subtle under ripe mandarin. There's a restrained herbaceousness too, namely marjoram and the faint whiff of limestone that you'd expect for the style. The palate is full and round, though not as varied and immense as the nose, but is still delightful and distinctly plush. The fruit on the palate is a little more controlled but still punchy, the fruit intensity drops mildly with the herbaceousness coming forward. There is a pronounced but balanced bitterness on the finish. Hard to tell this is a mid-strength. The flavours were all there, the finish was satisfying and moreish. This is a stand alone brilliant beer, but an exceptional mid-strength. wayward.com.au
Dainton Beer Overdrive West Coast IPA (7.0%)
Pull it out of the fridge, pour it into a glass and this beer definitely sends you into overdrive. The nose is bold and inviting, with an entire platter of tropical fruit. Traditional West Coast notes of mango, passionfruit and pineapple are met with a nuanced addition of papaya, green mango and a hint of green apple acidity. All these flavours are expertly mixed on the palate accompanied by a soft hint of limestone, a noticeable but balanced amount of ethanol and a lingering bitter finish of pine needles and pineapple skin which keeps you coming back for more. Fitting perfectly to the parameters of the style, this is a stellar return to more traditional form from the masters of the weird and wacky. dainton.beer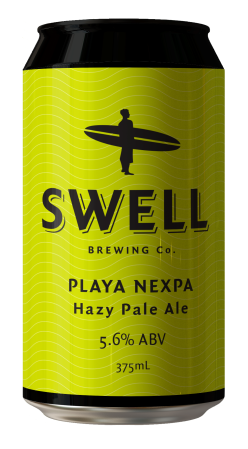 Swell Brewing Playa Nexpa Hazy Pale Ale (5.6%)
A relative new comer to the can scene, Swell have been making waves across social media, quickly becoming one of the more sought after breweries and you can see why with this creative little number. A thick haze in bright gold, there is an abundance of white head holding in the gorgeous fruity aromas. The nose holds bright notes of rockmelon, honeydew melon and a subtle whiff of wintermelon. There's a punch of passionfruit and green mango with a flurry of citrus rounding it out. Although round and plush on the mouth this beer is definitely lighter in body than its NEIPA counterpart, with the same characteristic lack of bitterness which makes it incredibly easy to drink and extremely refreshing. A beer that would match perfectly with ideal beach temperatures, as long as you consume it cold! The brewery suggests grabbing a four pack just in case and we concur. swellbeer.com.au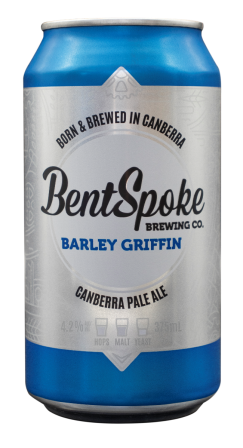 BentSpoke Brewing Barley Griffin Pale Ale (4.2%)
It's a cruel twist of the brewing world that so often a loved first release gets overshadowed on the hype train by the latest and greatest new members of the family – and Barley Griffin will eternally sit in the shadows of two of Australia's best in Crankshaft and Sprocket despite the fact that it placed tenth in the latest GABS Hottest 100 list. Alas the Bentspoke team haven't lost focus, with the proclaimed Canberra Pale delivering on all fronts. Fresh, vibrant and fruity American hops sit over a balanced biscuit malt body (so often now lacking in "modern" pales). Bitterness is soft, with a dabble of hop driven stone fruit emerging late on the palate. Refreshing and satiating. Resistance against another sip is sure to be a futile endeavour! bentspokebrewing.com.au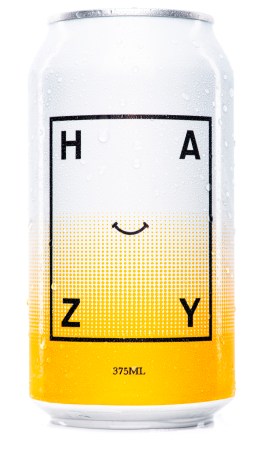 Balter Brewing Hazy NEIPA (6.0%)
An absolute cracker of a beer that delivers everything you want – with huge hop flavours and a bitterness that balances the slight sweetness from the full body. The new 375ml package sizing (previously 500ml) is the perfect amount to maybe even have a cheeky second too. It's pale gold in colour, very hazy and with a white head that lasts. The aroma is all hops, with massive bursts of mango, passionfruit and coconut. Mango and sweet coconut continue on the palate with a moderate, lingering bitterness. It has a smooth and creamy full bodied mouthfeel with a slightly astringent bitterness that works in its favour. Carbonation is at the lower end of the scale due to the full body. balter.com.au
Bad Shepherd Peanut Butter Porter (6.4%)
A unique and intriguing beer from the get-go, where lovely sweet peanut caresses the nose while presenting a beautiful dense head. The flavour is bold, impactful and well balanced, delivering a joyous punch of flavour reminiscent of hot toast with freshly spread crunchy peanut butter. If you are looking for something exciting and fun this is your beer! Ed's note: The Peanut Butter Porter doesn't actually contain any peanuts – an entirely smart move by Bad Shepherd to avoid using allergens in the brewery. Instead, and in a display of how there are more ways to skin a cat when it comes to brewing, hazelnut, vanilla, lactose and darker crystal and biscuity malts are employed to give the impression of peanut butter fudge dipped in chocolate. It's a delight. badshepherd.com.au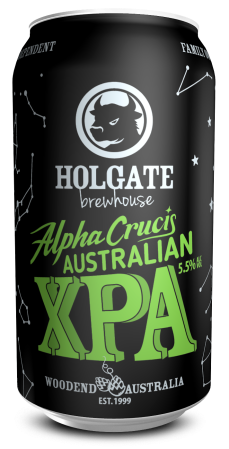 Holgate Brewhouse Alpha Crucis XPA (5.5%)
With a blend of Galaxy, Topaz and Vic Secret, the expectation is that this XPA will be beaming with tropical fruit and citrus, well shine brightly it does! The aroma is a good balance between sweet mango, pineapple and juicy citrus. The moderate malt palate provides a good backdrop to allow the hop notes to follow through and linger with a firm, rounded bitterness. The finish is on the dry side but not astringent. Pale golden in colour and although the foam dissipated a little quickly, that may have also been a result of getting straight back in for subsequent tasting and enjoyment. Alpha Crucis – a befitting namesake for this Aussie star. (Holgate's Twin Suns XPA was also reviewed in the Autumn magazine where, like Alpha Crucis, the hops steal the show whilst keeping everything well integrated). holgatebrewhouse.com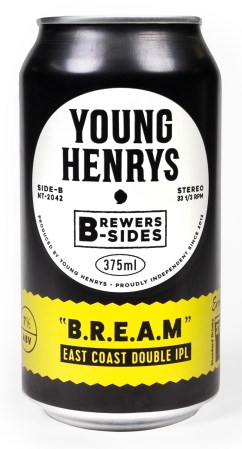 Young Henrys B.R.E.A.M Double IP (7.0%)
As is the case with their Brewers B-Sides series, you're often left wishing they'd hang around longer than their limited runs permit and this IPL is one of those. An acronym for Beer Rules Everything Around Me (and in reference to the Wu-Tang Clan track Cash Rules Everything Around Me), B.R.E.A.M is a gorgeous amber gold with a radiant white, creamy froth. Huge hits of fresh mandarin juice and citrus zest sit above aromas of pine and boozy tropical punch while subtle bready malts are there too, as is a crystal clean fermentation profile. The taste and mouthfeel experience is wonderful as it matches the fullness and flavour of a well balanced IPA, via grapefruity bitterness, hop spice and buttery fudge sweetness, with the crisp and clean finish of a great lager. younghenrys.com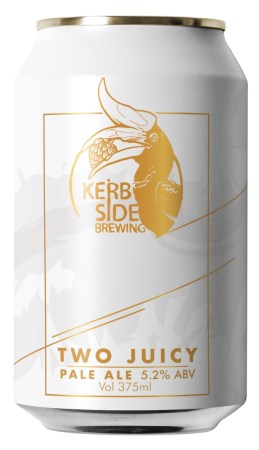 Kerbside Brewing Two Juicy Pale Ale (5.2%)
A Pale Ale for the hop lovers, it's got big tropical fruit notes, new world hop character and big bitterness that blurs the line between Pale Ale and IPA, yet finds a balance that lets each component of the beer sing out. Behind all that fruit and hops is a great malt backbone too. It's pale gold in colour and bright and clear in appearance with a medium, but persistent off-white head before big tropical fruit notes, passionfruit and rockmelon especially, lead the aroma. The fruit is followed by a bold hop character that's green and grassy. On the palate tropical fruit is up front followed by a surprisingly big hop presence. It's bold and bitter but that bitterness then leaves behind a pleasant toasted bread like malt character. kerbsidebrewing.com
Garage Project X Balter Dry Haze Hazy IPA (6.0%)
A cracking beer with complex layers of flavours and aromas plus a creamy mouthfeel and nice dry finish for a very drinkable hazy. It pours a deep hazy straw colour with a fluffy white head before delivering big juicy aromas of mango, pine, coconut and a creamy sweetness. The palate is bursting with complexity where big notes of Sabro coconut, pine and tropical fruits interplay in rhythm. If that wasn't enough, the soft, full bodied creamy mouthfeel, dry finish and subtle alcohol warmth wrap things up succinctly and hopefully you're opening another. (This is a review of the December 2020 release of Dry Haze. It was also released in June 2020) garageproject.com.au / balter.com.au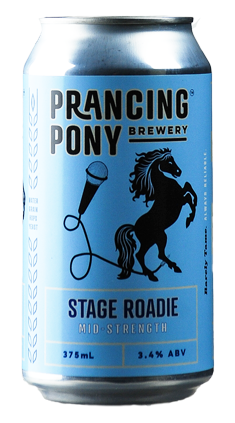 Prancing Pony Stage Roadie Session Ale (3.4%)
A brewery that can make a beer of this level of excellence must clearly have a solid bedrock of competency. Lower alcohol or not, the Stage Roadie is a world class beer with an exquisitely clean ferment and oodles of flavour expression. Light, noble, spicy hops are firmly present, the body is delicate and clean and residual sugars are perfectly present to balance out the reduced alcohol fullness. And it's happy days with beers like these for those of us that need to be more gentle on their liver – and those that don't! In the Autumn magazine we also go behind Prancing Pony's XPA Session Ale with their director and head brewer Frank Samson. prancingponybrewery.com.au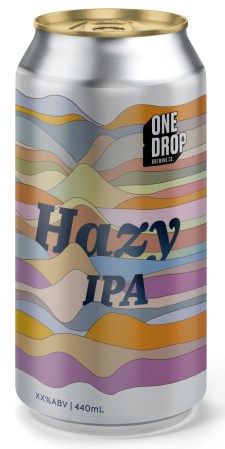 One Drop Brewing Hazy IPA (7.2%)
A hazy monster, bright orange with persistent foam. The three-pronged hop assault is a winning combo – Sabro lending plenty of coconut, Vic Secret adding its passion-pineapple vibes and Nelson bringing the punchiest lychee notes we've tasted in a long time. It's almost the Nelson of a decade gone by, with melon, gooseberries and grape all popping up from sip to sip. A creamy and silky texture as expected on the palate, dissolving any hint of the high ABV. Soft bitterness and enough carbonation to cut the juice and pull you back in. A ripping good beer. In the Autumn magazine we review seven other One Drop beers including their excellent XPA and two from their Berliner Weisse series. onedropbrewingco.com.au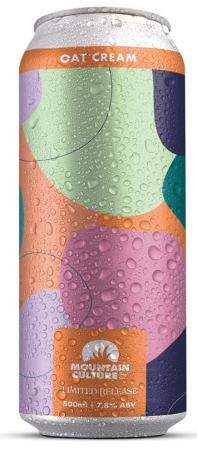 Mountain Culture Dreamatorium Oat Cream IPA (7.2%)
A blushing burnt orange pour, with an opacity bordering on muddy, it looks almost chewable. Dense and dank tropical fruits ooze to the fore; melon, orange zest, papaya and a spritzy sherbet all adding their voice to a mango dominant profile. A sweet and candied body is well balanced, bringing a fresh juicy yet creamy texture. A gentle carbonation and a soft bitterness serve to alleviate death by sweetness, instead allowing the hop flavours to roll once more across the palate. The high ABV is nowhere to be seen. Close your eyes and you'll get lost in this one. The Autumn magazine also features three more reviews of Mountain Culture beers with Soft Catch, Heavisaurus and Animal Style all receiving glowing praise. mountainculture.com.au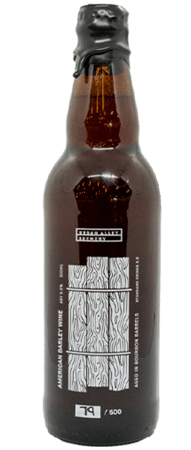 Urban Alley American Barleywine 2019 (9.9%)
A good barleywine will cellar for 10 years if the alcohol, rich malt and bottling allows. As a barleywine ages, it takes on oxidative characteristics and morphs into a fortified whisky/wine/beer. While this 2019 sample is as young as it gets, the expressions of rich fruit, plum, prune, raisin and sultana are evident on aroma and palate. The integration of grassy hops helps balance the rich malt layering. The light woody characters and barrel ageing qualities are evident in this lighter barleywine style and while it drinks well now, it has what it takes to be a beauty in years to come. Rich and full in flavour with deep complexity and lingering steeped fruit sweetness and layered malt. urbanalley.com.au