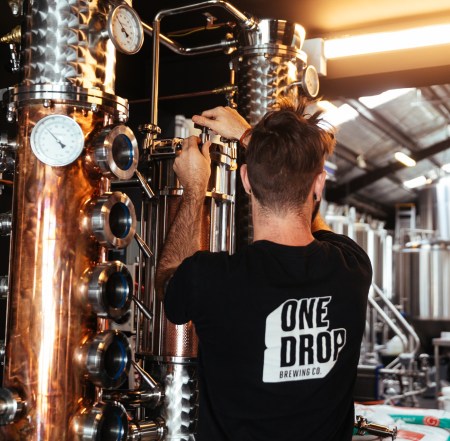 In a little over two years Sydney's One Drop Brewing Co have already become a lot of things to a lot of people. Their taproom is now a much needed hub for their local Botany community while their array of beers – from the traditional to the unconventional – have gained notoriety and recognition far beyond their geographical footprint. And now they're set to significantly add to their repertoire with the unveiling of their new sub-brand One Drop Spirits, new craft gin and liqueur range as well as a tasting room upstairs from their brewpub.
Opening this Friday at 4pm the new tasting room will showcase One Drop Spirits' own Native Gin and their first liqueurs – a mandarin version of a limoncello and a boysenberry one. The Mandarin-cello uses fruit grown in Botany by co-owner Meg Barbic's parents in the backyard of where she grew up. It repurposes fruit used in One Drop's Mandarin Wild Ale while the Boysenberry Liqueur is made with the waste fruit from the soon to be out re-release of their Double Take Imperial Sour.
That focus on waste reduction is the inspiration for the liqueur range's moniker 'Second Life' as One Drop will repurpose spent fruit and other adjuncts, that would have otherwise been discarded, in the creation of the range.
"We had all this leftover fruit from our sours that would usually go down the drain. We wanted to give it a second life," One Drop's director, head brewer and now distiller Nick Calder-Scholes told Beer & Brewer.
"We're taking that fruit, because we use such a ridiculous amount, and making liqueurs out of it. The plan is to make them cool again. I mean, Midori was cool in the 90s right?"
As far as packaged sales go, the gin will be a permanent fixture while the liqueurs will come and go like seasonal releases with Davidson plum, blackcurrant and chocolate iterations (all part of the Second Life range) not far away. The gin (200ml and 500ml bottles) and liqueurs (200ml) are available for pre-order in the One Drop webshop.
Their move into gin initially came about because they had a still on site to make hand sanitiser last year. Their very first batch – a native Australian botanical gin, featuring the likes of Strawberry Gum leaf and Tasmanian pepperberry – was sent off to the 2020 Australian Gin Awards and duly returned with silver in the Contemporary Gin category.
"I'd never made a gin before so I don't know if that's a sign but we'll take it and run with it," Nick said.
In turn they ripped out an old office space on the ground level to house four liqueuring tanks and a new still – a custom built 250 litre one that is capable of doing everything from gin to whiskey – while they've transformed the space above it into the tasting room where patrons can sample the new range in innovative seasonal cocktails, beer cocktails and paired with One Drop beers in boilermakers.
The gin and regularly changing line-up of liqueurs will be their focus for now, but Nick, who is a graduate of the Institute of Brewing and Distilling, said other styles of spirits may be explored in time.
'It's now or never'
As much as One Drop's latest pivot can be put down to maximising the fact they had a still on site to make hand sanitiser and as a natural outlet for the likes of spent fruit from their sours, the decision to take it to the next level can be assigned to the influence COVID-19 has had on how they make many of their business decisions now.
Nick said the pandemic had been the "push over the edge" they needed to take much needed steps in some aspects of the brewery – from production to labelling – and now with the distillery too.
"When COVID hit the feeling was not so much we needed to get more serious about things but more a case of us putting a few of our ideas that we had before COVID into practice. It was like 'it's now or never'," Nick said.
"We essentially got rid of a lot of our own barriers that were in place. For me, on the beer side of things, I was like 'let's just go absolutely all in. Let's do the beers we've always talked about but were too scared to press go on 2,000 litres of it'.
"And what COVID did for us was solidify what we wanted to be and do. Once we started to follow that path that's when we saw everything start to grow."
Founded in February 2019 by Meg and husband Clay Grant, One Drop are yet to sense what a normal year for them looks like after not packaging any product for their first five months before much of 2020 was turned on its head by the disruption COVID-19 caused the industry. But Nick said they're all pretty keen to find out.
"We're only two but we're going into our third year with a lot more direction and a bit more confidence. We don't really know what we're capable of but this will be our first opportunity, obviously COVID-pending, to give it a real red hot go."
One Drop is located at 5 Erith Street in Botany. The new tasting room is on level 1 and will be open every Friday, Saturday and Sunday evenings where bookings are essential.