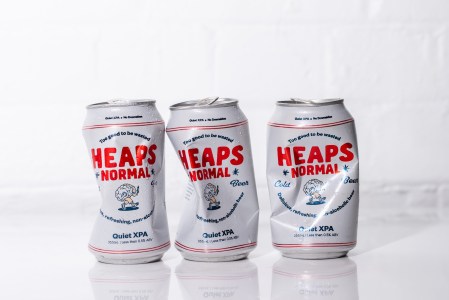 In its first competition Australian non-alcoholic craft beer brand Heaps Normal has won the World Beer Awards no and low-alcohol country winner title for its Quiet XPA.
Alongside the likes of Brick Lane and O'Brien Beer, who were also crowned country winners in separate categories, Heaps Normal's flagship beer is now eligible for the next round of The Drinks Report-run awards where world champions will be announced on September 9. See below for more details on Brick Lane's standout achievements and the list of country winner results for Australian breweries.
Launched in July last year, the win nicely bookends the Canberra-based brand's successful first year where they've become a flag bearer for the burgeoning non-alcoholic craft beer industry in Australia. In some of this country's major retailers sales of their 0.5% ABV Quiet XPA are now outstripping all-comers as the country witnesses a tangible shift in its drinking culture. At Beer Cartel, Australia's largest online craft retailer, it's now their biggest selling beer – period.
CEO and co-founder Andy Miller said the growth of the brand has outpaced his expectations from the start.
"We came to this wanting to change the conversation around mindful drinking and sobriety with a product that could stand up to our favourite full-strength brews," he said. "We could not have imagined we would be where we are now. The appetite for non-alcs has only grown in Australia over the last year and we're so stoked to be part of this shift."
Andy said the World Beer Awards success was testament to the hard work of head brewer and fellow co-founder Ben Holdstock who had previously worked for Sydney-based breweries 4 Pines and Grifter.
"It took Benny more than six months of trial brews using unique recipes, methods and non-traditional yeast to create an alcohol-free beer that passed the pub test, so it's great to see that recognised on a global stage.
"Our mission has always been to change drinking culture and we don't measure our success on awards. With that said, we're incredibly grateful to be recognised in a category that is growing rapidly. We have so much respect for the other award recipients in Australia's non-alc category — Hawkesbury Brewing Co, Tinnies Beer and Mornington Peninsula Brewery — for what they're also doing to offer consumers a great-tasting alternative to alcoholic beers."
Of the Australian breweries that entered the World Beer Awards, Brick Lane were the standout achievers.
The Melbourne brewery, that produce Quiet XPA on contract for Heaps Normal, as well as fellow country winner, the Coles-owned Tinnies IPA, had three of their own beers recognised as Australia's best.
Their One Love Pale Ale, Red Hoppy Ale and Revolver Dark Hoppy Ale were each awarded the country
winner title in their respective categories.
These latest recognitions follow Brick Lane's recent success at the Australian International Beer Awards in May, where gold medals were awarded to One Love Pale Ale, Brick Lane Lager and Someday Sour Blood Orange while One Love took first place at the Drink Easy Awards in 2019.
World Beer Awards – Country Winners, Australian breweries
American Style IPA
Tinnies IPA
International Lager
Smithys Dry Lager
No & Low Alcohol Pale
Heaps Normal Quiet XPA
Amber
Brick Lane Red Hoppy Ale
American Style Pale Ale
Brick Lane One Love Pale Ale
Speciality Beer – Gluten-free
O'Brien Belgian Ale
Stout & Porter
Brick Lane Revolver Dark Hoppy Ale
For the full Round 1 results at the World Beer Awards head here.