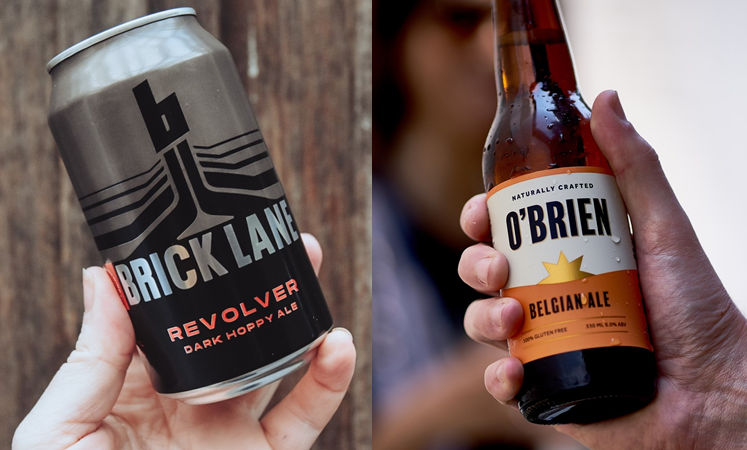 Brick Lane Brewing and O'Brien Beer have flown the Australian flag at the World Beer Awards with the Victorian breweries taking out "World's Best" medals in separate categories.
After being crowned "Country Winners" in the first round of The Drinks Report-run awards in August, Brick Lane's seasonal Revolver Dark Hoppy Ale and O'Brien's gluten free Belgian Ale won the top prizes in the Porter and Specialty Gluten-free categories respectively.
New Zealand's Cassels Brewing's APA won the World's Best Pale American-style Pale Ale award while the United Kingdom's Big Drop, a name familiar with many non-alcoholic beer drinkers in Australia, won both the World's Best No & Low Alcohol Stout & Porter award for its Galactic Milk Stout and World's Best No & Low Alcohol Speciality for the Paradiso Citra IPA.
You can view the complete results here.
In a statement, Brick Lane's head brewer Jon Seltin said: "This is an incredible recognition for our brewing team and the dedication they consistently show to our beers. Revolver is a particular staff favourite and something we really look forward to brewing each Winter. To have this recognised at the World Beer Awards is really something special".
The World Beer Awards' judges noted Revolver's "lovely pour with off-white head and praised the flavours of toasted chocolate, espresso martini and the slightly spicy/bitter finish, along with the velvety body and luscious medium light finish"
Paul Bowker, Brick Lane CEO and founder, said: "We have built a world class brewery from scratch and surrounded ourselves with a community of extraordinarily talented brewers. Our biggest thrill is seeing people enjoying our beers and knowing the effort that has gone into each drop from our local Victorian barley growers and maltsters through to some of the best hop growers in the country. We absolutely love that Revolver has not only been a tremendous success in introducing people to the beauty of porters but is now also crowned the World's Best".
The judges had this to say about the O'Brien Belgian Ale: "Lovely spicy Belgian yeast nose. Attractive pale gold in colour. Taste is complex with spicy yeast and bitterness. Beer retains interest throughout to a clean, spicy, short finish. Refreshing".
The win follows a successful period for the Rebellion Brewing-owned O'Brien who recently raised over $700,000 via an equity crowd fund to fuel planned growth while they won six gold medals at this year's Australian International Beer Awards.
Their chief brewer John O'Brien said: "O'Brien is now officially the best gluten free beer in the world and we are absolutely delighted. On the back of six gold medals at the AIBA awards, our winning streak continues and it is wonderful to be recognised for the quality of our beers.
"Gluten free beers are judged in the World Beer Awards against barley-based gluten free beers that have been gluten reduced. To win this award is really a testament to our brewing team and also our incredible suppliers with whom we work so closely. The O'Brien Belgium Ale has been a popular Autumn seasonal brew for the past eight years and was also our first ever AIBA gold medal. Our Belgian Ale has candy sugar added to the sorghum and millet malts, giving the beer a slightly sweet and warming ale with a subtle spice, earth and fruit character. A great Autumn seasonal that always is well loved."