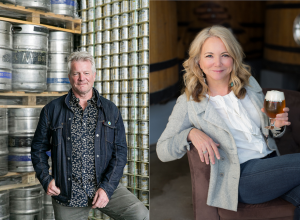 At BrewCon 2018, we sat down with American brewing legends Kim Jordan of New Belgium and Dick Cantwell, formerly Elysian and now Magnolia, to talk about brewing on both sides of the Pacific. 
This conversation was published in our Spring 2018 issue. To subscribe to the magazine click here.
HOW DO YOU RATE THE BEER SCENE HERE IN AUSTRALIA?
DC: I was here two years ago, and I'm always fascinated to come back to a place to see how far it's come – and it's come a long way. I've had better beers and been to more interesting breweries this time than I did last time. The scene is clearly exploding.
DO YOU THINK IT'S FOLLOWING A SIMILAR PATH TO THE US?
DC: Yeah. You could be at a US brewpub at many of the places we've been – there's an aesthetic and a commonality to a lot of the physical facts of what's happened, down to the way brewers look all over the world! KJ: One of the things I've noticed is that there are less hoppy beers and a broader spectrum of varieties – more pale ales, for example. So just from the variety standpoint it's a bit of a different mix, although that may be based on self-selecting because Dick and I are hoppy beer drinkers and we'll tend to go to places that specialise in that. I would agree with Dick that the beer scene seems to attract fanciful facial hair-wearing types, and maybe add that I've seen fewer women in the Australian scene than in the US.
WHAT'S YOUR OPINION OF THE NEIPA TREND?
DC: I'm intrigued by how divisive they are. Guys who are my age or even substantially younger feel like they have to take a stand against them, as though they're some sort of affront to brewing. But there's an artistry to them – they've kind of revolutionised dry hopping and the way hops are perceived in beer. They don't have high IBU and they're massively aromatic, and that's really interesting. I don't understand why the hardliners aren't won over by the fact it's a new, interesting way to make beer.
KJ: I have a guess on that: there may be a certain amount of 'I don't want my beer to be so murky', but I think more than that, when you hear that some of these beers have added flour etc. for cloudiness,  there's a bit of cravenness to that almost – like 'you are so interested in making sure that your NEIPA
looks murky, that you're adding things that are just weird?' The beer is not going to hold up well with flour in it. The interesting aspect of them is the dramatic decrease in bitterness, with still a very-forward, aromatic hoppiness.
WHAT ABOUT BRUT IPA?
DC: I think Brut IPA has taken a lesson from New England IPA: they're hopped similarly, they're not high in IBU, and they're massively aromatic in terms of hops – everything comes from what preceded it.
WHAT DO YOU THINK ABOUT THE RENAMING OF THE INDEPENDENT BREWERS ASSOCIATON, SWAPPING 'CRAFT' OUT OF THE NAME?
KJ: In the US they use 'craft' as a definition for craft brewer, and the first piece of the definition is independence. But I think it's really interesting they did that here, and their rationale was that craft is such an overused word – at least as I understand it – that it's become meaningless. It was a smart move
but I still have an affinity for the word craft, because we are stewards of a really long history of an art form, and I don't want to lose that connotation.
DO YOU THINK SOMEONE ENTERING THE CRAFT WORLD CARES WHO MAKES THE BEER IF IT TASTES GOOD? 
DC: We wish we could say with complete conviction that everybody cares about independence, but not everybody does. I think there's a certain amount of fatigue these days when people hear about one
brewery after another being acquired by the bigger breweries. Taking my own former company [Elysian] as an example, the beer geeks were outraged at the sale of the company, but most other people just
shrugged – if they even noticed! We hope that it's an important distinction for people but in many cases, it isn't.
IN AUSTRALIA WE'VE SEEN SOME OF THE PIONEERS OF THE SCENE SELL IN RECENT YEARS, FOLLOWED BY A STRONG NEGATIVE REACTION FROM 'BEER GEEKS'. DO YOU THINK THE INDEPENDENCE SEAL IS A WAY OF EDUCATING THE MORE AVERAGE CONSUMER? 
DC: Yes definitely, I'm all for the Seal.
KJ: One of the things I've learned over the years about marketing is that term 'reach and frequency'. Unfortunately as trade associations, we don't have the money in the US – and I'm guessing that the IBA is in the same boat – to get the kind of reach and frequency we need to really draw that distinction between independents and the mainstream. As brewers, we need to be promoting our brands not an industry concept because we don't have enough money to do both. The Seal helps.
HAVE YOU NOTICED THE NEW BELGIUM RANGE OF BEERS DEVELOP OVER THE LAST FEW DECADES, KIM?
KJ: Definitely. Fat Tire is probably still the biggest single brand, but if you put our Voodoo Ranger series alongside it, which is two hoppy beers all the time and a rotating seasonal, it would be as big as Fat Tire easily.
WHERE DO YOU SEE THE INDUSTRY HEADED IN THE NEXT FIVE TO TEN YEARS? 
DC: More buyouts, some contraction – but not necessarily fewer breweries, at least in the short term – and more creative combinations of forces. I think we'll see more breweries coming to some sort of agreement on distribution and even production, and even the acquisition of smaller brands by bigger ones, like what we're involved with in San Francisco with Magnolia. It's a partnership between a very
large American craft brewery [New Belgium] and me, a guy with a lot of brewing experience. Magnolia goes back to an idea that Kim has been talking about for years, which she calls 'brewing with friends', an earlier iteration of which was between Elysian and New Belgium. We did a series of beers that we put out
cooperatively, it gave New Belgium a presence in the Pacific Northwest and a way for Elysian to make more beer. That's an example of what the future could hold – people coming up with different ways to perpetuate what we've all created over the last 30 years and keep it going, independently as well.
ANYTHING YOU'D LIKE TO ADD?
KJ: Cooperation between brewers is really important. It's one of the ways that we are known to craft beer drinkers, as a group of people that is interesting and fun. We've got to work together.
DC: I think it's a mistake to compare everything to America – because every country is different. You  guys in Australia have been dealing with the acquisition of small breweries by bigger ones longer than we
have. The big breweries in Australia seemed bent on subsuming from early on. Every country is different, with different business issues and of course stylistic elements.