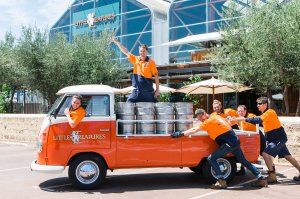 Little Creatures is celebrating its 18th anniversary with a new craft beer and a calendar of events at its Fremantle and Geelong breweries.
The Wonder Beers birthday brew is Little Creatures' flagship Pale Ale reimagined. Russell Gosling, head brewer at Little Creatures Fremantle, says that the team started by asking themselves what Little Creatures Pale Ale would look like if the brewery had started in 2018.
"Our first thought was 'who knows?'" he recalls. "But then we started to think more about some of the current trends we are seeing in brewing. We used two malts – our standard Pale Malt and Redback Malt, a new one from New Zealand – as well as a new varietal of New Zealand hops, Hort4337.
"Given the current trend of juicy pale ales in the US, we also added Burlington Ale, a yeast which is taking over the craft beer scene right now. We figured our birthday was a great opportunity to give it a go."
In addition,there will be a series of events to celebrate the brewery's 'coming of age'. Kicking off on 2 November, the events will run through until 21 December. including a partnership with the State Theatre Centre of WA and RTRFM; complimentary keg pours at the Fremantle and Geelong breweries; Fremantle BeerFest, presented by Little Creature; and a weekend long birthday celebration from 23-25 November at both breweries.
"From the first day our Pale Ale was poured from the Fremantle taps in November 2000, right through to the delicious family of craft beers that flow from our taps today, we're as keen as ever to bring beer and cheer into the lives of the many communities we now find ourselves in," the brewery says in a statement. "We don't have the words to articulate our gratitude for all who have supported and continue to support us. However, we do have world-class brewers who can conjure up a smashing birthday beer to say 'cheers', and a top-notch hospitality crew who know how to throw a cracking party."