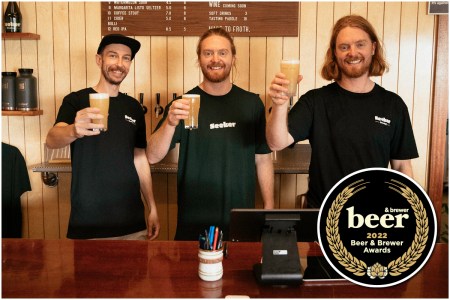 "We're definitely hopheads at Seeker."


Jeff Argent (on the right with brother Curtis, middle, and cousin Ben Boorer)
---
For some, in certain parts of the country, the name Seeker Brewing may only ring a bell had they been tuning in to this year's Independent Beer Awards when, in a hiccup early in the proceedings, they were incorrectly announced as the winner of the Pale Ale trophy, which ultimately, and correctly, went up the Pacific Highway to their brewing brethren Six String on the NSW Central Coast.
But if those same people had been paying closer attention since Seeker launched their brewery and taproom in Wollongong this year amongst the burgeoning brewery scene of Sydney's South Coast, they'd know this wasn't the first awards ceremony where their name had stood out on the night.
After taking over the former Bulli Brewing space in the suburb of Unanderra before opening the doors in March, Seeker found success at the first competition they entered. At the Australian International Beer Awards (AIBA) in May, two of their hazies – a style they largely hang their hats on – won golds (Huck Hazy and Mystic NEIPA) while their Rad red ale, Maxi Smalls non-alcoholic and Nan and Pops wet hop IPA won bronze. And then, after that winning-not-winning moment, their Indies night only got better as they walked away with gold for their Daydream XPA and a triumvirate of silvers for Maxi Smalls, Lil' Hazy pale and Twilight WCIPA.
For founder Jeff Argent, the early success has meant the team have faced "that extra pressure to keep the quality up".
"Getting the AIBA recognition straight off the bat was amazing. They were all pretty much our first recipes that we brewed as Seeker so there was trepidation entering them.
"But to get good feedback, it does keep you inspired and looking to keep on striving for bigger and better things."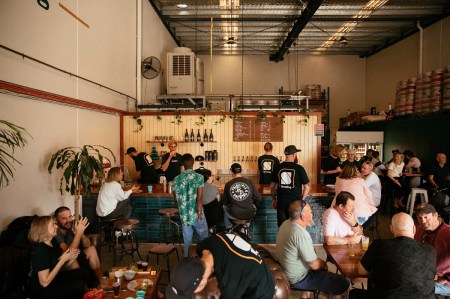 Whilst the Seeker recipes might be new, those brewing them aren't and Jeff had previously launched the contract brand Grassy Knoll Brewing which had gained exposure from a range of beers released under the moniker, including winning multiple medals at the 2021 AIBAs and from finishing in the top 10 of the inaugural GABS Can Design Awards with their Valley Lager – designed for them by the team at Craft Instinct.
With such market cut-through already in place it was a huge punt to rebrand completely when the chance to have a forever home came up in Unanderra. But looking back, after all that's transpired since, Jeff said the decision "sits pretty comfortably now".
"For about six months I was like 'nup, I'm not doing it (changing the name)'. I was pretty attached it. But launching as a new brand spawned a lot of new interest within the local community. Everyone loves something new, so that's definitely worked in our favour.
"And now, fast forward, it's almost like 'Grassy Knoll, what was that again?'.
"We're 100 per cent all in now with Seeker. It's definitely more a of a flexible brand to work with, and it resonates more with me. After being in Wollongong for three years now and having got involved with the mountain biking and surfing communities, the name resonates with all of that. It's that way with the locals too, and they've really got behind us."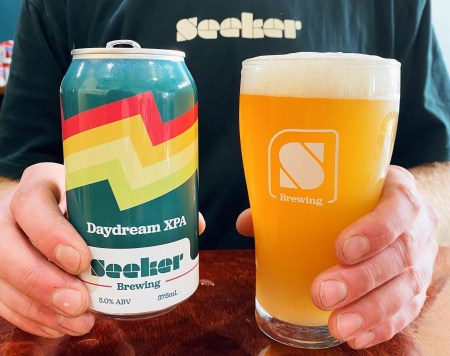 From the outside looking in, Seeker has been a pretty slick outfit from the get-go. The beers we've managed to get our hands on have been impressive while their fully printed cans, care of East Coast Canning's digital printing machine, have carried their quality factor over to what's outside the tin also.
From the inside, however, Jeff said it's been a little like the duck swimming in a pond – all graceful on the topside yet feverishly paddling away to keep afloat. But having recently installed new tanks to double their capacity, plus with brewery and taproom upgrades on the to-do list, they're setting themselves up for even better days ahead.
"We're definitely hopheads at Seeker. But once we're a bit more settled, we'd really like to branch out and do so much more. Wollongong just loves something new."
seekerbrewing.com
What the judges said:
"With a growing scene on Sydney's South Coast, Seeker is just one of the standout breweries in the area. Their beers are consistent and quality, with the Huck Hazy and Maxi Smalls really coming to mind."
"They've hit the ground running with beers to match a massively approachable aesthetic and taproom experience."
Previous winners:
2017 WILDFLOWER, 2018 BURNLEY BREWING, 2019 MOLLY ROSE, 2020 MOUNTAIN CULTURE, 2021 HEAPS NORMAL
You can view all of our 2022 Awards coverage here.
---