"From the get-go, when I first started meeting brewers, I just liked them. These were interesting people, making a really nice, interesting product and I just knew this was where I wanted to be."
---
With David Cryer retiring this year after 30 years of monumental service to and support of the industry, it's fitting that we can bookend his 2022 by bestowing our Lifetime Achievement Award on him – the title he was also presented with at last year's Independent Beer Awards.
To encompass all that he has achieved and who and what he has supported over his seemingly inexhaustible career as the founder of brewing ingredients supplier Cryer Malt could never be done in the space here provided. But to try to summarise, he's not only supplied high quality ingredients to the Australasian craft beer industry – from its very early days until recently – he's sponsored pretty much everything the industry could organise, helped get fledgling associations off the ground, owned and run a pioneering beer festival, mentored many, including the likes of Tom Madams and Steph Howard, and given so much of himself to so many throughout it all simply, as he put it, "for the good of the industry".
Needless to say, when a mighty figure like this chooses to step away, finally, it leaves a sizable hole that could never be filled, and that's only partly due to his towering six foot five stature. When we spoke to David to let him know about being bestowed this award, he admitted that there was a decent gap left in himself too. "You can't leave 30 years behind that easily," he said. But from where he spoke to us, "sitting on the balcony on (New Zealand's) Waiheke Island, overlooking the Hauraki Gulf, there are some tangible benefits to (retirement)", he added with a chuckle: "I'm just gathering my thoughts, reflecting on it all really. I've also got quite a large collection of (comics), so it is an opportunity to get that together and figure out what I'm going to do with it all one day. (My family) have all made it pretty clear they don't want (the collection) – it's too big!".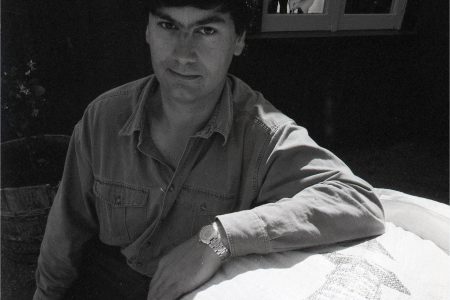 "In reflection I am just really pleased with (my career). Looking back to the early years and when I first came across someone like Richard Emerson who had until then only been able to source New Zealand malted barley – there was hardly any coloured malts at all. When I brought in that first container (from overseas) just seeing the delight on his face and others at being able to try Maris Otter and various other ingredients that they hadn't been able to get hold of and then tasting the resulting beers – I loved that process and I tried to do that all the way through. I think Cryer Malt is still doing that: trying to stay at the forefront and get the latest ingredients that the rest of the world tries but putting our own twist on things.
"There is a great deal of satisfaction from those sorts of things. There's a great deal of satisfaction from just being involved in the industry, being able to put something back."
Coming to the beer and brewing world in the 1990s after over a decade working in New Zealand's wool industry, David would find a community of kindred spirits who, he said, were the reasons why he grew to care about their world so deeply and in turn become such an integral part of its fabric.
"From the get-go, when I first started meeting brewers, I just liked them. These were interesting people, making a really nice, interesting product and I just knew this was where I wanted to be.
"I understood what they were trying to do and I knew (bolstering and supporting the industry broadly) would be something they'd like see happen. Obviously, it would be good for my business too so there was no hardship you could say in me putting my shoulder to the wheel. We had that nice common interest and I really enjoyed working with them.
"Brewers are unique. They're a certain type and I found them endlessly interesting as highly creative, intriguing people. It obviously helped that I love beer and I enjoyed having a beer with them too!"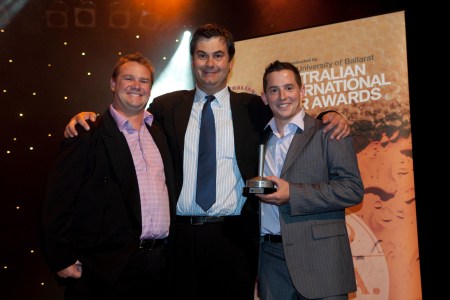 What he said he misses the most is the early days, when the craft beer landscape and celebration of it was pretty thin on the ground.
"You could just see the need for a more structured approach, so getting something like (pioneering festival) Beervana really going – that was a lot of fun. And then moving to Australia and working with the likes of Chuck (Hahn) and Brad (Rogers) and helping get the Australian (Craft Brewers Industry) Association (CBIA, now the IBA) off the ground – that was great. I really enjoyed it. And that's what I'll always miss the most.
"And that is one regret too," David admitted, "as seeing Chuck's name on this list (of who has received this award in the past), really makes me regret that more wasn't done, because he was there right from the get-go in getting the CBIA up and running. I would like that type of relationship to come back.
"Competition among (beer producers) is one thing, but the real competition comes from outside in terms of all the other products people can buy, whether they are other alcoholic products or not.
"We need to see more promotion of beer for the sake of beer. I've always felt very strongly that beer is a healthier product (than other alcoholic beverages) when it's brewed naturally. I think we don't make enough of it. I think beer producers could do a better job of just promoting beer together. So I would like to see the coming together, somewhere, somehow between big beer and small.
"It is very difficult to bridge that gap, but big brewers and small brewers are very similar when it all comes down to it – they all love beer and love getting together and learning from each other. There is much more in common than what separates them and I really feel strongly that category promotion of beer is something that should be done together."
Even in retirement he's still got the industry's best intentions at heart and that is the mark of the man. Congratulations David on your stellar career from us here at Beer & Brewer.
What the judges said:
"David's contribution to the Australasian beer industry has been nothing short of supportive, generous and magnanimous. He's been an integral part of building and shaping the craft beer industry, always forthcoming with sharing his knowledge, experience and passion as well as mentoring and advising the next generation in fulfilling their dreams."
"His retirement party showed the breadth of the brewing community that he had an influence on in his career."
Previous winners:
2017 CHUCK HAHN, 2018 BRAD ROGERS, 2019 BRENDAN VARIS, 2020 PETE MEDDINGS, 2021 JAYNE LEWIS
You can view all of our 2022 Awards coverage here.
---