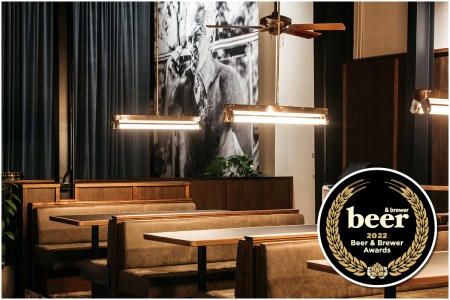 "It's also a celebration of Australiana and how good we've got it in this country."

David Gibson, Hawke's Brewing co-founder
---
As our awards rolled by every year, and Stomping Ground Collingwood only further etched its name deeper as our brewpub of the year winner (four times on the trot since 2017*), we've been left in the wash up wondering what it was going to take to knock them from their lofty perch.
More taps, more stainless, more space and more experiences were the general gist of what we imagined the ultimate brewery hospitality experience in this country would look like. But a brewery venue, that unashamedly harks back to the halcyon days of 1980s Australia complete with a smell just like Nana's place and where you could imagine not just Bob Hawke himself pulling up a pew, but everyone from Merv Hughes to Mrs Mangle too, didn't really come to mind!
Until March this year when it first opened its doors in Marrickville in Sydney's Inner West, we doubt it crossed anyone's.
But somehow the Bob Hawke Beer & Leisure Centre – home of Hawke's Brewing's brewery, taproom-cum-public bar, Chinese restaurant the Lucky Prawn and Robert James Lee Hawke Pool Room – just works, all of it. And it's not just us, our judging panel and the public that voted for them in our online poll that think so, but also the folks of all ages and sways who have been travelling back in time to soak up all of its wood panelled nostalgia and prawn toast and Patio Pale-fuelled good times en masse for the last eight or so months. The venue has been such a runaway success, they're now trading seven days a week whereas until very recently Mondays and Tuesdays were a chance to catch their collective breaths.
The venue, and in reflection the entire Hawke's Brewing brand, walks a very fine line that could easily have seen it stumble had it got the balance and tone not quite right. Go too far and you'd risk turning it into "the Planet Hollywood of Bob" as a co-founder said he feared it could be. Or go not far enough and you'd miss that opportunity to tap into a thirst for nostalgia that seems to run deep in this country.
Getting the brand spot on and doing just-the-right-amount-of-Bob in the Leisure Centre has obviously been helped by the fact nostalgia-loving co-founders Nathan Lennon and David Gibson are creative professionals who worked in the advertising industry prior to launching Hawke's. But their drive to instill an aesthetic of authenticity, rather than gimmickry, in everything they do (that's effectively in Bob Hawke's name) has seen them create something that is as much unique as it is familiar.
"I feel like from the outset, Dave and I have had this inner voice or inner critic or perception, that kept telling us people thought we'd just be a bit of a gimmick, because we were coming out of the gate as contract brewers and the two of us weren't from the (beer) industry," Nathan said. "So there's been a fire in our belly to get it right, remain authentic and to not make it too much about Bob himself.
"What we wanted it to be is that very real sort of experience we had growing up (in the 1980s) and building that emotional connection to Australia and our culture. We wanted people to feel that when they walked in and we wanted people to feel homesick when they saw pictures of the place overseas."
David added: "It is the Bob Hawke Beer & Leisure Centre in honour of the man, but it doesn't mean everyone's skulling beers and every shot you see is Bob with a beer in hand. It's also a celebration of Australiana and how good we've got it in this country.
"It's so nice watching the public come in for the first time and seeing them look around. It seems like they love it in that moment – and that's really uplifting for us."
While the place really needs to be seen firsthand, the attention to detail in achieving their goals is shown everywhere you look and listen in the place – from the secondhand carpets and Lazy Susan's in the Lucky Prawn to the audible Richie Benaud Test cricket commentary in the bathrooms. And if you choose, the respectful RJLH Pool Room at the rear is where you can have a beer and at your, ahem, leisure drink in images and memorabilia from the life of the former Prime Minister.
But for all that punctilious planning, Hawke's haven't lost sight of the fact that they're a brewery after all and now that they have a home, and the substantial task of building it is complete, they're looking forward to how that part of their story will further take shape.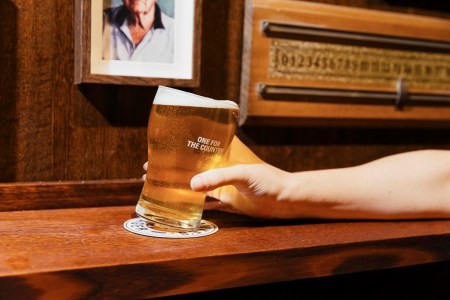 "For us, it's a bit of a dichotomy," Nathan said. "We want to pull people in emotionally through that lens of nostalgia, but through that experience (we're asking ourselves) 'how can we bring to light some of the innovative and progressive things we're doing?', particularly on the brewing side in terms of our sustainability.
"The job of the Leisure Centre is to kind of bring people in, let them have fun, let them settle in and enjoy things like our beers and Chinese food. But if that's the first time they interact with us as a brand, and it gets them interested to find out more, we can start to pull them down the path of like 'yeah Dave and I grew up in the 80s, there's obviously a bit of an emotional story there'. But we're also looking forward, as that would be what Bob would want us to do. He wouldn't just want us to look after Landcare (the charity Hawke helped establish and who Hawke's Brewing raise funds for) but also think about how we operate as a business and how we brew sustainably."
For all that the court of public opinion counts for, what really mattered for Nathan and David when undertaking the "massive personal risk" of "going all in" on the Leisure Centre was that it would pass the pub test with those that matter most.
Beer & Brewer was in the Pool Room on opening night back in March when Bob's daughter Sue Pieters-Hawke ushered his second wife Blanche D'Alpuget in for the first time and the emotion on their faces was unequivocal as they stopped to take in the many framed images (pictured).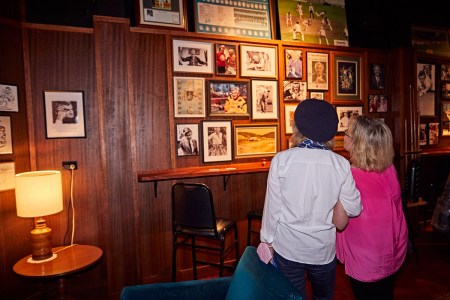 The moment wasn't lost on the co-founders either, with Nathan saying "when (they) walked in for the first time, and in particular waltzed into the Pool Room and they had a moment together, that was a big torture test for me. 'Have we done Bob proud?'. 'Have we done his family proud, in the way we have told his story?'.
"And they were tearing up and that was really sweet."
hawkesbrewing.com/beerandleisure
What the judges said:
"For sheer fun, this has to be one of the best brewery experiences in the country. What's not to love about this place? Stepping back into the 1980's decor, eating at the Lucky Prawn (try the deep fried Viennetta), throw-back Test cricket commentary playing in the toilets, freshen up with some Brut, playing pool while looking round the Bob Hawke museum and the beers are also top end. It's just an unexpectedly immersive experience."
"It's raised the bar for taprooms with a complete vision in aesthetic that skates very close to the kitsch line without crossing it. Prawn toast is a bonus!"
Previous winners:
2016 FERAL BREWING CO, 2017, 2018, 2019 & 2021 STOMPING GROUND COLLINGWOOD
*There was no 2020 winner due to COVID-19's impact on the hospitality industry
You can view all of our 2022 Awards coverage here.
---