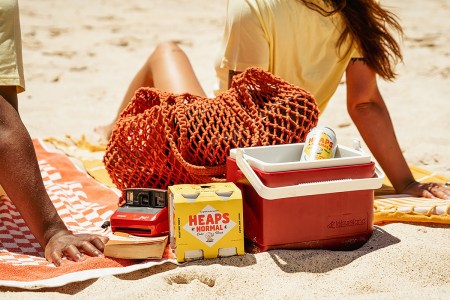 Summer's here and so too is Heaps Normal's latest core range non-alcoholic beer as they follow up their Quiet XPA and Another Lager with the Half Day Hazy.
Launching nationwide today both on and off premise, they've called it their "most ambitious beer yet" with co-founder and head of product Ben Holdstock saying the hazy was "a super drinkable, juicy beer, jam-packed with delicious hop flavour".
"It's like an instant holiday in a can, and the most big-flavoured non-alc beer we've ever brewed.
"We want to brew non-alc versions of the beers we love drinking all the time. Hazy styles typically are lower in bitterness, and so they lend themselves beautifully to a wider range of beer drinkers looking for something flavour-driven but refreshing. By keeping our Hazy brew really hoppy, we've retained that really tasty, full-bodied mouth feel of a full-strength hazy style, without the downsides."
Heaps Normal added that in the lead up to Half Day Hazy's release they ran it through a blind taste test with 40 publicans, bartenders, hospitality workers and employees to see if they could differentiate it against full and mid-strength versions of the style from two Australian breweries. They said more than half (55%) could not correctly identify which of the samples was non-alcoholic.
The new beer's name relates to the Heap's Normal coined "National Half Day" holiday to be inaugurally held on December 9 that encourages people to take the afternoon off to "celebrate the small wins of the year". To boost its profile Heaps Normal are giving away more than 5,000 free cans of Half Day Hazy on the day to venues to help celebrate.
Heaps Normal's head of brand Pete Brennan said: "We all deserve an early knock-off sometimes so from here on out, we're officially coining the 9th of December as 'National Half Day' day. Notify your manager and grab your work buddy or your best mates and celebrate the small wins of the year – you've earned it".
National Half Day kicks off from 1pm on December 9. For participating venues and locations visit heapsnormal.com and keep an eye out on their Instagram @heapsnormal to snag a free beer.