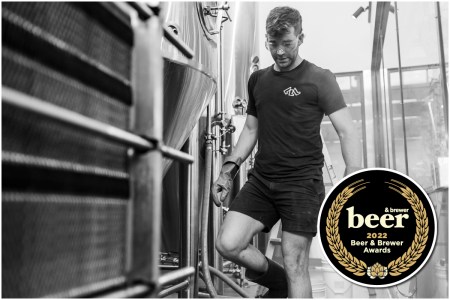 "It really is second to none as a feeling when you're at the peak of your job and everyone is along for the ride."
---
Ever since Steve Jeffares, Guy Greenstone and Justin Joiner founded it in 2016, Stomping Ground has invariably rolled out an extensive and diverse range of high-quality beers. So much so that it often came with little wonder when their Collingwood benchmark of a brewery venue took out our best brewpub of the year title four awards in a row from 2017.
But one of the cornerstones of that repeat success, that has been mirrored in competitions of note over the years also, has been Ashur Hall, Stomping Ground's head brewer since foundation and the person deservedly recognised as our brewer of 2022.
From speaking with a range of key figures in the industry whilst doing some background on Ashur for this feature, it became abundantly clear how he's regarded by his peers, with a constant theme of people's attitudes towards him being his thirst for technical perfection and the "persistent zip in his step" to make great beer with a smile on his face.
But ask the man himself to explain his strengths and he's quick to use the word "we" and defer praise to the entire team he works with for what has been an incredible run of late at major awards for Stomping Ground beers, all achieved on the back of a torrid period navigating Covid-19 within a business heavily exposed to the restrictions placed on hospitality venues.
"I got asked by a brewer when I was interviewing him for a job recently 'what are your proudest and most challenging moments in your career' – which was pretty random to be asked that in an interview when I'm the one doing the questioning! But anyway, I had to say to him that these last two years are both of those things. They've been the most challenging parts of my job to overcome because before that it was managing the challenge of growth. But they're also certainly my proudest moments too, in terms of getting through all of it, while retaining staff and maintaining a constant focus on improving quality. And by and large we did that and I'm very, very thankful for it.
"I'm a little bit disgruntled about lockdowns in general, but from a work perspective, as hard as it was to manage on reduced hours and pay, we came out of it stronger… as a team and as a brand. The beers came out better and the general culture was better. I do look back on that Covid period) with a lot of positivity and I look at what we were able to achieve during those two years with a lot of pride."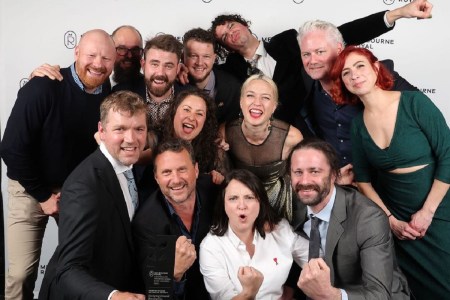 In the abridged version of that achievement, the end of 2021 would see them crowned Champion Large Brewery and Champion Victorian Brewery at the Independent Beer Awards, where their Hanging Rauch also took the trophy for Champion Hybrid Beer. At the 2022 Royal Queensland Beer Awards in March, where Stomping Ground were crowned Champion Large Brewery, their Czech Pilsner won the overall Champion Beer. Then at the 2022 Australian International Beer Awards (AIBA) they would not only win golds for all but one of their core range beers and for several seasonals too but be crowned Champion Medium Australian Brewery and see their Raspberry Smash and Bunker Porter win trophies in their respective categories. The Indies back in October would then see them take home another haul of medals, including four golds.
But it will be that crowning achievement at the AIBA this year (pictured above) that will sit the sweetest with Ashur when he looks back at all they have achieved.
"Having a big heart of the brew team at the awards and seeing everyone so happy with our success and knowing it's not just one person but the entire team that contributes to that success, it really was an amazing feeling.
"I hope we can relive that again because it really is second to none as a feeling when you're at the peak of your job and everyone is along for the ride."
Again, pointing to those around him, Ashur said he counts that "quiet period", when "all the noise of the venue was gone due to Covid restrictions", and "there wasn't much happening outside of work either" as when the entire brewing and quality control teams got down to the nitty gritty of refining their craft.
"When you couldn't make plans outside of work you kind of had to make plans for when you were at work, and that worked in our favour really well," he said.
"(Prior to Covid) we had won awards and we were constantly building our QC program, but in some respects it wasn't where it needed to be as our focus was being spent elsewhere, just keeping up really.
"Whereas now (as an example of the developments made) we're testing (our beers) two times a week. They were always great beers but subtle changes really can lift a beer from a silver to a gold."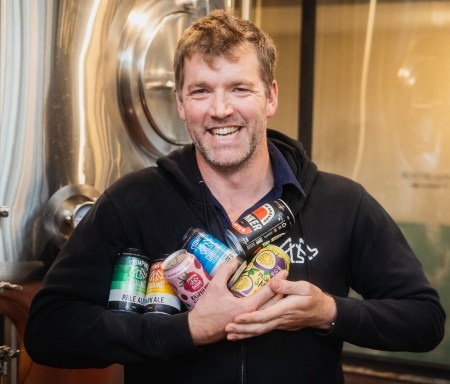 A stellar period for their beers was then rattled somewhat in August with the news that Good Drinks – owners of Gage Roads, Atomic, Matso's and others – had acquired Stomping Ground outright. What would this mean for their beers? What would it all mean for Ashur? But the man who's been at the heart of the operation since day dot is buoyant for the future and is ready to rip in.
"From being in this (Collingwood) venue from the beginning, and it just being a shell, where the brewkit was like an island in the middle of it all – I would never have thought we'd be where we are today by any measure.
"(But now, being in the Good Drinks stable) I'm excited for the future. When it was first brought to me, I was, as you can expect, cautious about what it might mean. But now I'm excited about what opportunities we have now. The Good Drinks guys are great. They're big on team, so being part of a group that has a similar mindset as us, is only win-win for me."
And having Ashur on board from the outset has only been win-win in the eyes of the founders too, with Steve, Guy and Justin saying: "Our first chats with Ash about our plan for Stomping Ground were way back in 20013 and we knew immediately he was the person for us. But whatever we hoped that he would bring to our business back then has been well and truly surpassed since.
"His work ethic knows no bounds. The breadth of styles he has managed to brew to an incredibly high standard is both rare and extraordinary. He has an amazing ability to envisage the outcome he wants in a beer – its style, appearance and flavour profile – and then pull together the ingredients and method to make it happen. If we had to pick a trademark or common thread that represents the hundreds of beers Ashur has brewed over the journey it would be drinkability – every beer has you coming back for another.
"In more recent years Ashur has been able to build, train and lead an exceptional group of people who we are also enormously proud of. This team has taken consistency and quality to another level and has been rewarded with some huge achievements at various beer awards. This is a credit to all of them and another well deserved feather in Ashur's cap."
stompingground.beer
What the judges said:
"The success of Stomping Ground is longstanding and well-known, and Ashur Hall has been instrumental in their journey. Their beer range has fantastic depth, constantly balancing traditional and innovative styles, whilst always delivering exceptional quality."
"For what seems like an eternity, Ashur has helped bring a world of beer styles to Australia and in turn has created some truly world-class beers along the way."
Previous winners:
2017 WILL IRVING, 2018 SCOTT HARGRAVE, 2019 WILL TATCHELL, 2020 JUSTIN CORBITT, 2021 SAM FÜSS
You can view all of our 2022 Awards coverage here.
---