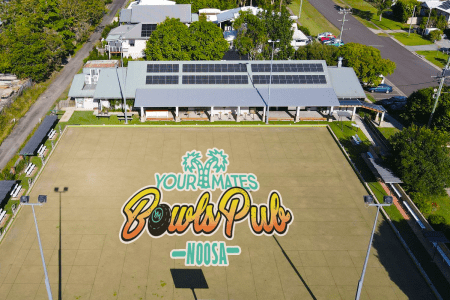 Your Mates Brewing have vowed to give a traditional bowling club "a new lease on life" as they ready to open their Your Mates Bowls Pub in the Noosa hinterland town of Cooroy on January 6.
As bowlos across the country continue to close down, the Warana-based brewing company said their second venue will offer a "whole new concept to bowls clubs" with "lively entertainment, barefoot bowls, lawn games, cracking craft brews and food, all in a fun family friendly atmosphere".
The announcement follows Your Mates' record-breaking crowd fund back in October where the Matt Hepburn and Christen McGarry-founded company raised $2.5 million in a little over an hour, making theirs the largest equity raise of its type in Australian craft beer and the third largest crowd fund campaign Australia-wide in 2022.
Further to the Bowls Pub, Your Mates said in their crowd fund offer document that they would use funds from the equity campaign to help finance "at least one" new brewpub in South East Queensland.
In a statement, Your Mates said: "Your Mates BrewHouse has earned a 5-star reputation over the last few years as being a go-to venue on the coast for good beers, good food and good time with mates…and now we're giving more of our mates on the coast the opportunity to enjoy the full Your Mates experience.
"When bowls clubs are closing down all over the place, we're stoked to be bringing a whole new concept to bowls clubs and giving one a new lease on life.
"Opening up the classic Aussie bowls club to new audiences, whilst supporting the local community and giving them a unique new entertainment experience.
"Your Mates Bowls Pub is going to inject the sense of fun and good times Your Mates is known for into an Aussie staple – we're turning the traditional bowlsy on its head and giving it a fair old shake up."
Your Mates said they'll "be throwing a ripper launch party" on January 6 so keep an eye on their socials for more updates.