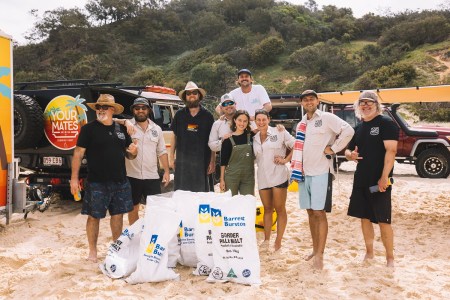 The Sunshine Coast's Your Mates Brewing have launched The Mateship Foundation – a not-for-profit charitable organisation that's aiming to raise $100,000 this year to support social and environmental causes in their community.
Having already raised $150,000 since 2019 for local charities via event fundraising and direct donations, Your Mates founders Matt Hepburn and Christen McGarry told Beer & Brewer the formal establishment of the foundation will enable them to have a much larger impact on those in need in their region.
"The Mateship Foundation is an extension of the great charity work that Your Mates Brewing has been doing through its existence," Christen said. "We've previously raised over $150,000 as Your Mates and now, in The Mateship Foundation's first year, we have set a target of $100,000.
"Your Mates has always been about giving back to the community and the foundation will help us have more impact into bigger projects and help more mates."
Matt added: "Community is a massive thing for us. It's one of the core reasons Your Mates was built. So we're absolutely rapt to announce our new not-for-profit.
"The Foundation's goal is to raise $100,000 this calendar year. We've already donated $15,000 each to local charities Blue Hope and Young Veterans.
"Our overarching goal is to support and give back to the community and champion mateship."
To bolster their fundraising efforts, Your Mates are holding their first ever Super Roll Charity Bowls Bash at their Your Mates BowlsPub in Cooroy on June 2.
In support of local charities Disabled Surfers Sunshine Coast and Riding for the Disabled, the ticketed event includes a five hour food and beverage package plus DJ, comedians, raffles and auctions. There's $2,500 up for grabs for the winning bowls team plus prizes for the best 80s-themed dressed individual and team.
Head here for more information about The Mateship Foundation where organisations can also apply for a grant.