Young Henrys and Dune Rats collaboration 
Sydney Brewers Young Henrys have released a collaboration beer with "fellow ratbags" and Aussie garage rock band Dune Rats.
Dunies Lager is described as a "Summer smasher" brewed with a mix of Mosaic, Citra, El Dorado and Azacca hops, with a "full blown dank hop nose and flavor" thanks to some late addition hop hash.
The beer came about as the result of a bet – in short, if their new album The Kids Will Know It's Bullshit made it to number one on the ARIA charts, Young Henrys would brew a beer with them. With the record hitting the top of the charts, the rest is history.
Clocking in at a (totally coincidental) 4.20%, Dunies Lager is available in 330ml cans. You'll find it at a number of pubs and bottle shops across the country and is also available direct from the Young Henrys online shop.
Grifter's Sake Pilsner 
Keeping it in the Inner West of Sydney, the Grifter Brewing Company in Marrickville has released a Sake Pilsner, brewed with Koji Rice and a blend of Lager and Sake yeast and hopped with Japanese Sorachi Ace.
The 6% ABV Far Out Sake Pils is described by Grifter Head Brewer Glen Wignall as "pretty unique" in both flavour and brewing method.
"It's got a bit of a sweet element to it – the Sorachi Ace hops in there add a kind of lemon peel finish to it," he says. "It's got a bigger body and a sweeter finish… it's tasting pretty good. [The colour] is pretty pale, a pale straw to light yellow."
While beers brewed with rice are nothing new, what sets Grifter's Sake Pils apart is the use of Koji rice, "in which the starch in the rice has been converted by a mould called Koji."
"We teamed up with this sake brewery out west and they helped us in sourcing the ingredients," Wignall explains. "So it's polished rice – they polish back the protein on the outside of the rice which exposes the starch and they sprinkle this mold on it and that converts the starch into sugar.
"We're not using the enzymes in the mash to convert the sugar in the rice, it's already been done for us."
The beer will be on tap at the Grifter Brewery's tasting bar and will also be rolled out to bars and pubs around town – keep an eye out on their Facebook page for more info.
Stomping Ground Coffee Stout
Stomping Ground Brewing Co in Collingwood, Melbourne is collaborating with Teeling Irish Whiskey to craft a St. Patrick's Day 'boilermaker': a limited edition coffee stout served with a shot of small batch Irish whiskey.
Stomping Ground's Head Brewer, Ashur Hall, brewed a sweet milk stout with coffee sourced from their shop-neighbours at Allpress to create the Snakes Out Coffee Stout.
"We all love celebrating St. Paddy's day with a few pints every year so we decided to brew a local and sweeter stout and partner with Teeling's to create an Irish inspired beer experience," says Cassie O'Neill, Stomping Ground's "resident Irish lassie."
"Ashur has brewed the beer specifically to complement the flavours of the whiskey perfectly."
The first tapping of the beer will be part of the Good Beer Week Gala Showcase taking place at Federation Square on March 16.
It will then be exclusively sold at 12 venues around Melbourne including Heartbreaker, Boilermaker House, Nieuw Amsterdam, Lock & Key, Fifth Province, Carwyn Cellars, The Local Taphouse, Freddie Wimpoles and the Stomping Ground Beer Hall.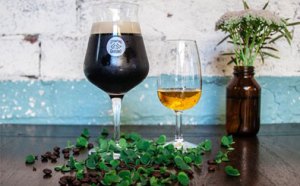 James Squire Mid River Pale Ale 
James Squire has released a new beer called the Mid River Pale Ale.
Head Brewer Chris Sheehan says that the mid-strength pale aims to hit the "sweet spot" between maximum taste and mid-range ABV.
"There's no reason why mid-strength beer can't be singing with all sorts of flavours and complexities. We've had a mid-strength beer in the range for some time, but as the sector exploded around Australia, we wanted to revamp it," Sheehan says.
Brewed with Vienna and Munich malts – providing a rich and malty character – James Squire say that the German hops Hallertau Tradition and Spalt Select also give it a crisp herbaceous flavor while US hops Mosaic, Citra and Northern Brewer add bright citrus and fruit aromas.
Clocking in at a sessionable 3.5%, the limited release Mid River Pale Ale is available on tap at James Squire Brewhouses and in six-packs via MoCU.