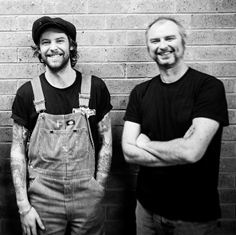 Oscar and Rich from Young Henry's
Sydney breweryYoung Henry's has announced a one-day festival, Small World, which will feature exciting local bands, restaurateurs and some of Young Henry's own crafted surprises.
The festival will take over the whole ofJabez Street inMarrickville for the food, beer and music celebration on Saturday 20 September.
With a background and underlying passion in music, the team at Young Henry's put together the line-up of artists, which includes; Tumbleweed, True Vibenation, Little Bastard, The Snowdroppers, Bloods, Steve Smyth, Pat Cappoci, Richard In Your Mind, The Upskirts and Royal Tennyson.
Small World will include pop up stalls from some of the inner west's culinary delights such as Bloodwood, Porteno, Mary's and Cornersmith. Young Henry's will serve their exclusively local beer Newtowner, as well as Cloudy Cider and their new Noble Cut hand crafted gin.
"Young Henry's Noble Cut Gin is a small batch distilled gin made with many varied botanicals including juniper, orris root, Australian native bush tomato, pepperberry and Tasmanian grown hops. The gin is both floral and dry, complex and smooth. Uniquely Australian yet reminiscent of a classic London Dry," said Oscar and Rich from Young Henry's.
Tickets are $55 plus booking fee and can be purchased here.