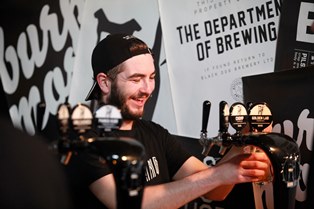 Ellery Turner at Beervana 2013
Craft beer lovers will have an opportunity to extend their knowledge and enjoyment of beer through a range of seminars at Beervana, which will be held 22-23 August at Westpac Stadium in Wellington.
Festival director David Cryer says the seminars are an integral part of Beervana, which is New Zealand's premier craft beer show.
"Through the seminars attendees can experience Beervana at different levels, whether it's about extending their knowledge of brewing, or how to pair beer with food, or having the opportunity to taste award winning craft beers from other parts of the world," says David Cryer. "There is something for everyone with an interest in craft beer."
The inaugural Taste of Portland seminars offer a chance for attendees to meet the brewers and try the beers of the World Beer Cup Medal Winners from Portland: Gigantic Brewing Company; Commons Brewing; and Widmer Brothers. Portland-inspired culinary delights to go with their beers will be presented by specialist beer chef Paul Kasten, also from Portland.
The popular Home Brewing Masterclass series is back again also. Led by some of New Zealand's leading brewers: Mike Neilson from Panhead Custom Ales; Kelly Ryan from Fork Brewing; Jo Wood from Liberty; and Luke Nicholas from Epic, attendees get to learn some interesting brewing techniques on the art and science of brewing to the highest level.
Just a few tickets remain for the Beer and Cheese seminars being run by local cheese expert Wendy Adams as she shares a range of beer and cheese pairings and gives insightsinto the influence of terroir on their resulting flavour profiles.
More than 250 beers will be on offer from more than 60 breweries, with Feral, Nail, Stone & Wood, Two Birds, Murray's and Young Henrys among the thirteen Australian representatives. New Zealand brewers include the likes of 8 Wired Brewing, Garage Project, Epic Brewing Co, McCashins Brewery and many more.
Seminar tickets range in price with detailed information here.