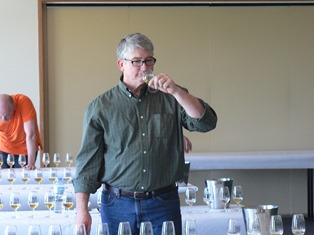 The 2013 guest international judge Gary Awdey
Cider Australiahas opened entries for the Australian Cider Awards, aimed at showcasing and celebrating the best apple and pear ciders available across the country.
President Sam Reid said Cider Australia is expanding the range of award categories to better reflect the growing range of ciders available in Australia.
Seventeen categories will be judged by internationally-acclaimed expert Malcolm Reeves, from New Zealand, along with Australia counterparts Gary Baldwin, Wayne Hewett, Ian Kingham and Behn Payten.
"Our aim is to move towards a better understanding and appreciation of the different cider styles available in Australia, by producers and consumers alike," said Reid.
"This follows the approaches used in leading cider competitions overseas where ciders are judged against their stylistic peers."
Cider and perry can now be entered into the 'New World' or 'Traditional' category.
In the 'New World' categories, the judges will be looking for a modern, fruit-driven style that may have less complexity, texture and structure than ciders in the 'Traditional' classes.
There will also be three new and separate categories for ice cider, fortified cider and experimental cider.
"We are hoping to see some interesting and innovative entries in the three new categories and their inclusion is a reflection of the growing maturity of the cider market in Australia," said Reid.
Cider Australia is proud to set the benchmark with the new judging parameters.
"As the category continues to develop and we obtain learnings from the international judges that we bring in each year, it's natural that we evolve the categories to reflect not only best practice but where the market is in Australia at this present time," Reid explained.
"Of course the key point of the competition is the ability for producers to benchmark their ciders versus local and international producers and enable the continuous improvement in quality in the category that we are seeing."
Entries close 19 September and can be submitted here.
Winners will be celebrated at a special dinner on October 10 at The Kelvin Club, followed by a Cider Festival in Ormond Hall at Village Melbourne on October 11 and 12.