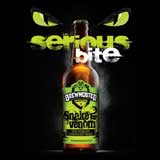 Late last year, Scottish brewery Brewmeister set out to make the world's strongest beer. The end result was something they called Snake Venom, and it's not a thing to be trifled with, packing an insane 67.5% ABV. No, that's not a typo… it's really as strong as a cask strength whisky.
This week, the team at Barny's Fine Wine & Ales in Sydney announced that they have secured extremely limited stock of both the Snake Venom, and Brewmeister's earlier stab at a super-high alcohol beer, called Armageddon, which tips the scales at 65% ABV.
By "extremely limited", we mean "blink and you'll miss your chance to own a bottle" – there are just bottles of Snake Venom and only 8 bottles of Armageddon on offer, and at the time of writing, more than 40% of the stock has been sold on pre-order.
Barny's is selling the beers at $200 for a 330ml Armageddon or a 250ml Snake Venom. For more info on how to order, visit the Barny's website.