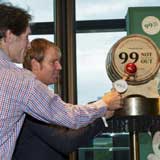 Former Australian test cricketer Shane Warne is keen to shout someone a beer. The only problem is, it's a very specific person – someone who was at the match where he was dismissed for 99 against the NZ team.
Warne says that he couldn't really show how disappointed he was to have been given out (off a no ball, no less…) so close to scoring his first ever test century – but the fan in question that he's now on the hunt for really let rip from the stands. So Warne wants to shout him a beer – one of his own beers, in fact: a '99 Not Out', which he developed with Moa.
The only clue he has is that the fan was wearing a hand-painted T-shirt that read "Warney's Grouse at Cricket"… and armed with only that, he's taken to Twitter and Youtube to try and track the un-named fella down.
You can watch the Youtube video here: http://youtu.be/TMJDat1h4Ro