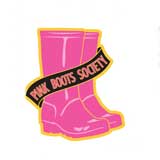 The Australian branch of the Pink Boots Society has announced two $5,500 grants, allowing women within the Australian beer industry to access educational opportunities. The grants were awarded to one female brewer, and one female working in a non-brewing role.
The winning submissions for the grants came from Young Henrys brewer Agnes Gajic, and Marketing Manager for True South, Tanya Harrowell.
Agnes is reported to be putting the grant towards setting up a venue called "Beer Creative", which will allow people to try their hand at brewing on a commercial scale, while learning the ins and outs of the industry.
Tanya's goal is to put her grant towards studying a PhD at Federation Uni, entitled "Understanding the role of Women in the Beer Industry", providing sufficient insight into the role of women in brewing, so that they can enjoy a more positive image within the beer industry.
For more information on the Pink Boots Society, head to their website and sign up.