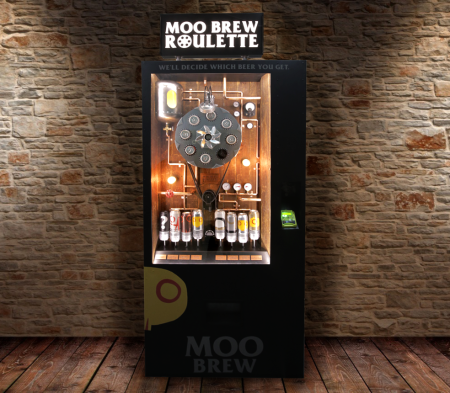 Hobart-based Moo Brew has created what they claim is the world's first beer can roulette vending machine, to celebrate its new range of beer cans.
With the tagline "we'll decide what beer you get", the machine has been designed and built by Sydney production company FINCH with a team of six mechatronic engineers, 3D artists and production designers – who have created possibly the world's weirdest and least practical vending machine.
The inspiration for the machine came from Head Brewer at Moo Brew Dave Macgill.
"One of my mates, his father got sick of all his mates coming round and stealing his beer," Macgill explains. "So he converted an old Coca Cola vending machine into a custom built one and charged them $2 for a beer and took the revenues to fill it up again.
"I thought it was genius, and ever since then have wanted one full of Moo."
The machine has been designed to add an element of risk, so just like in a game of Russian Roulette, there is a one-in-seven change of getting the 'not-Moo-Brew' can that no one wants to drink.
"We have six core beer styles, so thought we'd invent a vending machine that encourage you to try a different one each time," says Macgill. "Basically, you pull the handle and the machine decides which one you get."
Moo Brew's Can Roulette Vending Machine will get its first outing at The Newtown Hotel in Sydney tonight (Thursday 21 September), before it works its way down to the Melbourne Festival where it will appear at the opening and closing night parties.
After two weeks residency at the Garden State Hotel from October 6-21 (Head Brewer Dave will be there to shout you a beer on its first night at the pub), the machine will find a permanent home at the Museum of Old and New Art (Mona) in Hobart from mid-November.