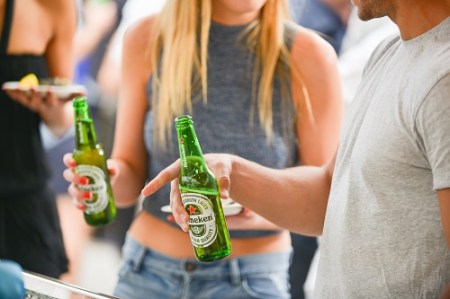 Heineken has launched the biggest local marketing campaign for Heineken 3 since the brand entered the Australian market in 2016.
The integrated three month multi-channel campaign will roll out through TV, radio, outdoor, PR, social media, experiential and in-store activations. Its central focus is to drive trial and educate consumers on the ideal occasions to enjoy Heineken 3 while also showcasing its key attributes of lower calories and lower carbs.
Supporting this, Heineken 3 will also engage a selection of influencers over the coming months to take part in the campaign. Their role will be to bring to life the occasions where Heineken 3 is the ideal drink and showcase them to their audiences.
Heineken is aiming to bring new consumers into the beer category through the lens of key occasions, having identified that consumer are looking for an easy drinking, lower calorie and lower carb alcoholic alternative to complement Australians' modern and active lifestyles.
Nada Steel, Marketing Manager at Heineken Lion Australia, said: "Heineken 3 has reached its highest penetration ever and captured a 31 per cent market share (IRI MAT July 2017) which has exceeded our expectations. We have also seen our awareness level hit more than 21 per cent (NPD Brand Tracking, July 2017), which is great for a product that has only been in the Australian market for 12 months."
As part of the campaign, three Heineken 3 branded vehicles and a dedicated street team will appear at relevant Heineken 3 events, driving trial through sampling activity.
Details of further sampling activity can be found on the Heineken Facebook page or on www.haveitall.beer from 1 October.
Heineken 3's first TV commercial aired on 17 September and will be complemented by a radio partnership with the Southern Cross Austereo network.
Out-of-home activity will build further scale to the campaign with activations planned in strategic locations to increase brand awareness and target drinkers in the right places at the right time.
Heineken 3 will also partner with on-premise venues and off-premise stores across Australia during the warmer months. As part of its on-premise activity, Heineken will activate a number of special events with partners to provide consumers with the best experience to enjoy Heineken 3. Further details will be announced soon.
"We recognised trends around health-conscious consumers and offering a choice that complements their lifestyle," Steel said.
"We want to reach new drinkers to demonstrate how consumers can enjoy Heineken 3 in the right way, at the right time including those spontaneous moments. Communicating these occasions is a key part of our marketing strategy and we have some ambitious plans to drive trial."
According to Heineken data, 79 per cent of consumers who have tried Heineken 3, have since repurchased the product. Earlier this year, Heineken 3 was named Australia's Best Low-Carb International Lager at the prestigious Australian International Beer Awards (AIBAs).