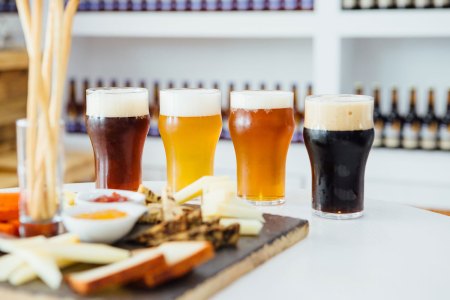 The Australian National Homebrewing Conference's (ANHC) annual food and beer pairing dinner returns for 2017 and will take place at the William Angliss Institute in Melbourne on 21 October.
The event brings together four award-winning and/or nationally recognised homebrewers with a leading chef, who create a menu that showcases the diverse range of flavours and pairings that are possible between food and beer.
Television personality Paul Mercurio will return as MC for the 2017 edition of the dinner. This year's chef has been announced as Dai Duong, co-owner and head chef at Uncle Restaurants in St. Kilda and Melbourne's CBD.
Secretary of the committee that runs the ANHC, and Grain and Grape owner John Preston, told Beer & Brewer that the dinner is the only one in Australia that focuses on pairing homebrewed beer rather than commerical beer with food.
"We have four champion homebrewers who brew the main beers specifically for the dinner, paired with food made by the William Angliss staff under the direction of a different chef each year – this time it's Dai Duong from Uncle, one of the best modern Vietnamese restaurants around these days."
The four homebrewers behind the dinner beers for 2017 are Grant Morley (Champion Brewer Vicbrew 2015 & Australian Amateur Brewing Championship Gold Medal Winner), Ruth Barry (Winner System Wars at Good Beer Week 2017), Kris Domagala (Champion Brewer Vicbrew 2016) and Mikko Pludra (Champion Beer of Show Vicbrew & Australian Amateur Brewing Championship 2016).
"The range of flavours that you have with beer – from sour beers to rich malty ones, clean and crisp beers, hoppy beers – there's just such a wide range that can pair really well with food," Preston said.
"All the beers being brewed for the dinner are of European origin. On the night there will be a pilsner – all the beers have a bit of a twist, but the pilsner will have a couple of modern hops in it rather than being a traditional Saaz-based pilsner.
"Another is a Dubbel, a Belgian brown ale which goes really well with Vietnamese braises. There will also be a porter and a Berliner Weisse."
Preston also explained that beers from Hop Nation, Dainton and Bad Shepherd will also be served to attendees on the night.
"The guys who run those breweries – amongst many others – are ex-homebrewers who've become pro brewers and are making fantastic beers, so we've become really close with all of them.
"Usually we serve one commercial beer on arrival, then we have the four courses and the four homebrews paired with them, and then we have the other two commercial beers at the end of the night to wind down."
And you don't have to be a homebrewer yourself to buy a ticket; indeed, Preston encourages all craft beer lovers to come along, commenting that "it's an event that really brings craft beer lovers and homebrewers together."
Tickets to the dinner can be purchased from the ANHC website here.