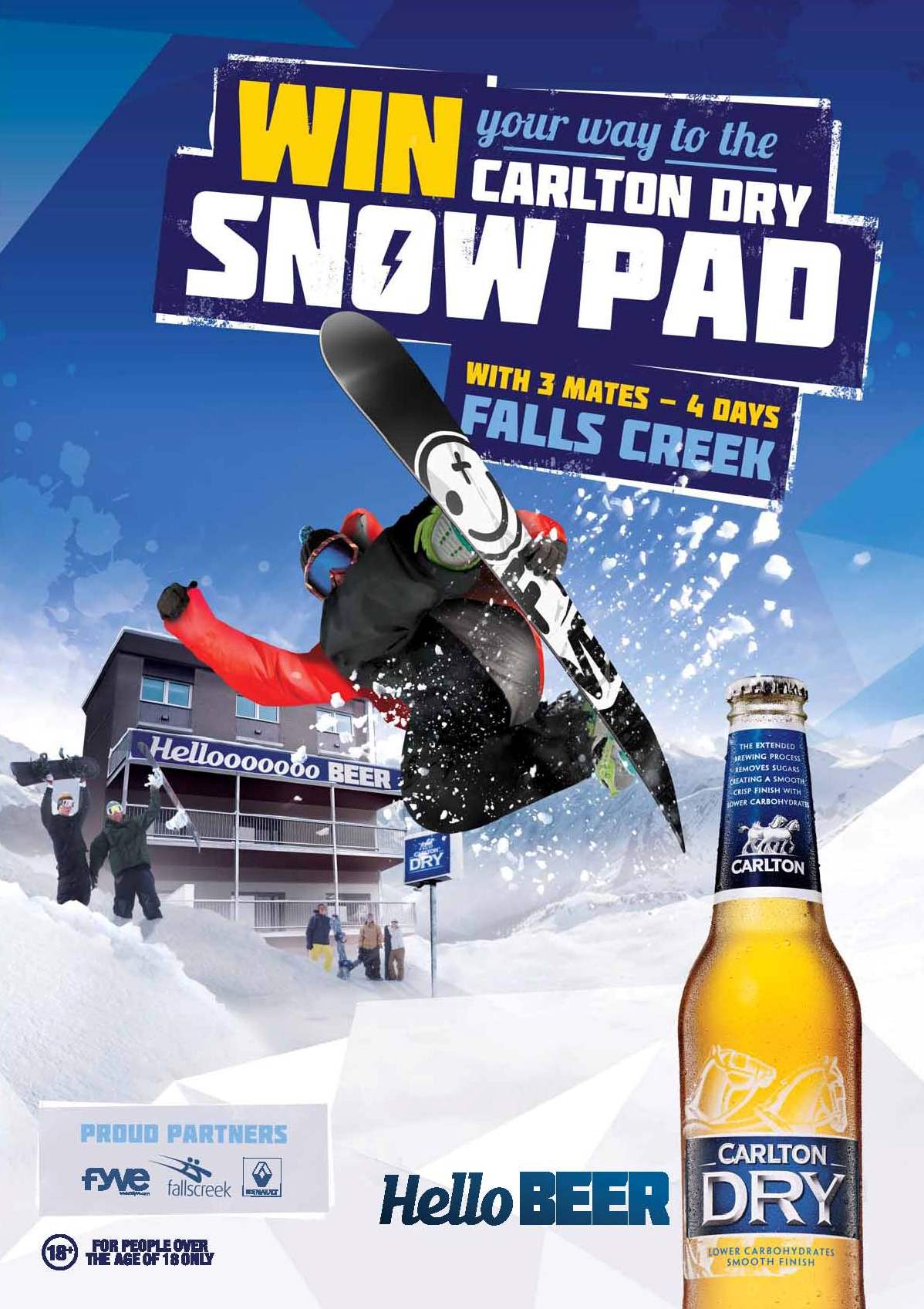 Feel like living it up in the ultimate ski-fields penthouse playground in Falls Creek, Victoria? Well, Carlton Dry wants to treat you and three mates to a stay at the Carlton Dry Snow Pad.
With space fro nine guests, the snowy retreat is decked out with Carlton Dry fYVE snowboards and gear, PlayStations and plasmas, as well a supply of Carlton Dry to keep you well hydrated for the duration of your stay.
"Without question, there's no better place to be this winter than sitting high on a mountain in your own private Carlton Dry penthouse," says Andrew Meldrum, general manager of marketing for Carlton Dry at CUB. "Your mates will be fighting tooth and nail for a spot in your penthouse pad."
The winners and their lucky mates will be the luck receivers of an all-expense paid trip to Falls with everything from snowboarding lessons to food and drink provided for the duration of their four day trip – they'll also get to hang out with the two full-time Carlton Dry Snow Ambassadors and the Carlton Dry sponsored fYVE Snowboarding Team, who will be on hand to help out with some pro tips and tricks.
The full perks include flights, transfers, Carlton Dry fYVE boards and gear, lessons, snow experiences and beer.There are 12 such trips up for grabs – timed throughout the 2012 boarding season from June through September – which can be won in a variety of ways. Five trips will be given away through a radio partnership with Nova FM's Fitzy and Whippa, one trip is up for grabs on the Carlton Dry Facebook page, three trips are to be won through an IGA Liquor in-store promotion and the final three trips will be in play through selected venues nationwide.
And don't worry if you miss out, there is whole range of snow gear is up for grabs including Carlton Dry fYVE snowboards, stuggie holders, Hello Beer fridges, sunnies and more across selected venues nationwide.