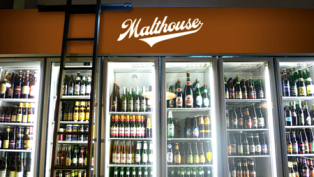 The 7th Annual Malthouse West Coast IPA Challenge saw 16 Kiwi craft breweries present their interpretations of a hoppy American ale.
The Challenge is held at the Malthouse craft beer bar annually and has grown from two competitors (Epic Brewing and Hallertau Brewbar) in year one to the record 16 this time.
Brewers compete for the coveted Golden Gumboots trophy and bragging rights over their peers. Many of the successful beers, which usually are made especially for the event, later go into commercial production. The beers were blind tasted by a panel of beer writers – Geoff Griggs, Neil Miller, Jono Galuszka, Martin Craig and Shane Cowlishaw – along with brewer Kelly Ryan in the first round.
The winning beer was Renaissance Bloody RIPA (Red IPA), followed by Fork & Brewer Big Tahuna IPA and Epic Brewing Lupulingus IIPA. All three of these beers will be released commercially at selected location on tap and in bottles (for Renaissance and Epic) and on tap only (Fork & Brewer).
Another highlight was the People's Choice Award, where Malthouse customers voted for their own favourites on the night. It was taken out for the second year in a row by the fledgling Baytlands Brewery with their Rock Solid IPA.
Limited stocks of the sixteen beers are available at specialist NZ outlets.
For more information, click here.