Modus Operandi Brewing's Grant Wearin, Jaz Wearin and DJ McCready
Since opening last week with just a 'now open' sign out the front and a Facebook post the day before,Modus Operandi Brewing Co., a new craft brewery, bar and restaurant,has proved a roaring success.
Located in Sydney's northern beaches suburb Mona Vale, Modus Operandi is the brainchild of husband and wife team Grant and Jaz Wearin, who have joined forces with head brewer DJ McCready, former senior brewer and head of the specialty beer program at Oskar Blues Brewery in North Carolina, USA, and Connor Avery, a young, up and coming head chef.
"The reaction to the beer and food quality has been excellent. People have been pulling us both aside to tell us how much they've enjoyed it and will be back," Jaz said. "We've had repeat customers already, one couple having come in for dinner three times already."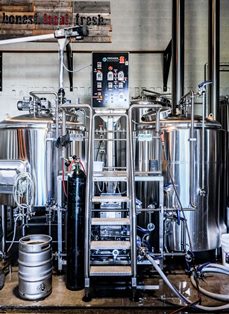 The brand new 12-hectolitre brewhouse
There are currently seven handcrafted beers on tap, with an apple cider with a twist soon to be added. The team plan to move to 12 taps in future and will incorporate a barrel ageing program.
The current range includes; Kite Flyer Cream Ale, MOFOS (Modus Operandi Funky Orange Saison), Pepper in the Rye Saison, M.O.na Pale, Former Tenant Red IPA, Zoo Feeder IPA and Silent Knight Porter.
"We are soon to release our barrel aged Porter, aged in single malt whisky barrels sourced from Lark distillery in Tasmania, as well as our black coffee Lager, which has been brewed with a proprietary Vanuatu coffee blend from Coffee Brothers, our local coffee roaster," Jaz added. "We are a progressive brewery with a progressive brewer."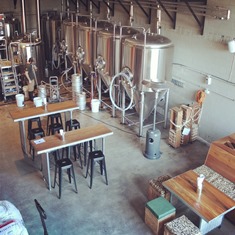 The industrial style design of Modus Operandi
The artisan approach continues through to the kitchen with head chef Connor Avery making all of the breads, dough, chutneys, sauces and desserts from scratch on site, with many of the items crafted from the brewery's own beer and yeast. The menu ranges from cheese and antipasto plates, through to American fare such as chicken wings and ribs, to stone-fired pizzas and even beer-inspired desserts such as Porter sticky date pudding and Saison soaked apples with crunchy crumble.
It has taken about two years from idea progression to the doors opening and less than six months for the brewery to open after taking over the premises.
"It has been a high intensity effort over a significant period of time but to see the tables full, great feedback on our entire range of beers and not to mention the food, makes it well worthwhile," said Jaz. "Sounds clichéd, yes, but this is our life now and we want to always do things right. Honest. Local. Fresh. It's our M.O."