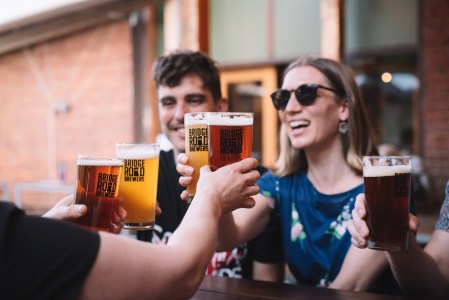 With Bridge Road Brewers' High Country Hop harvest festival making a welcome return to Beechworth in April we've got two tickets to give away ahead of the big event.
All you need to do is email us at info@beerandbrewer.com before 9am AEDT tomorrow (February 18) with your full name and delivery address and we'll draw the winners at random.
Located near the Ovens Valley hop growing region, Bridge Road launched the High Country Hop back in 2015 to celebrate the Victorian hop harvest and the breweries in the area. It's now evolved into not just a major event on the regional Victorian calendar but one where attendees can sample so much more than the fresh hop beers that put it on the map in the first place.
On April 2 at the Beechworth Historic Precinct, a roll call of regional Victorian breweries will be on show, including Bridge Road, Bright Brewery and King River, while there'll also be the likes of Mountain Culture and Garage Project jetting in.
The musical line-up features Emma Donovan & The Putbacks, The Lazy Eyes, Ausecuma Beats, Cool Sounds, Middle Name Dance Band, Folk Bitch Trio, Rainbow Connection DJs, Uptown Brown + The High Street Shufflers.
There will be food trucks serving up delights while if you want something other than beer some of the region's winemakers and distillers will be showcasing their products as well.
If you're keen to make a weekend out of it you can attend the festival's Technical Symposium on April 3 from 10am to 4pm at the Beechworth Town Hall. This is where those in the craft beer industry and enthusiasts can learn and share information and hear from the likes of the Independent Brewers Association and brewers, producers and growers on the latest developments, techniques and approaches in beer.
The High Country Hop, Saturday 2nd April 11.30am – 9pm.
Beechworth Historic Precinct Reserve, 94 Ford St, Beechworth VIC 3747
Tickets: Adults $69 – includes a festival glass and 4 tasting tokens / Under 18s –$15 / Under 5s – free.
Enter our ticket giveaway draw here and head to the festival website to purchase tickets and for more information.
*The draw for this has now closed. The winners were: J. Partington, Yarrawonga and S. Goldsmith, Thornbury.