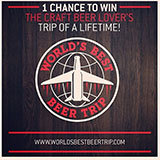 A crowd of awesome breweries from around the world have teamed up to create the ultimate prize for one craft beer lover.
Feral and 4 Pines have joined up with Good George Brewing (Hamilton, New Zealand), Meantime Brewing (London, England), The Brew (Shanghai, China), and Victory Brewing (Philadelphia, U.S.A.), to send one lucky punter on a round the world economy class (or as they like to call it "craft beer class") trip to hang out at each of the breweries mentioned.
What the winner then gets up too is a matter of personal choice. Think helping out with brewing, bottling, pulling beers – pretty much everything these breweries do to keep their operations ticking over – or even just hang out, drink beer and soak up the atmosphere.
To be in the running, interested beer fans will need to get their social media on by submiting a photo of something interesting and explaining in 50 words or less: Why should I win the world's best beer trip?
And be warned, the guys aren't interested in hearing that your goldfish died and this would be the only thing that would make you happy again – get humorous, get creative and maybe, you just might win.
Each of the participating breweries will choose a finalist to be displayed on the World's Best Beer Trip website where they'll vie for the most votes to scoop the grand prize.
With such a massive prize up for grabs Jaron Mitchell, GM and Co-founder of 4 Pines Brewing Company, expects the entire internet to crash under the weight of punters rushing to enter.
"First we think Facebook will shut down," he says. "This will cause social panic. In a knock on effect with people looking for other mediums to communicate, Twitter, Linked-In and eventually mobile phone networks will also become overloaded. Soon after, more secure banking and then government and military networks will be corrupted. Skynet will become self-aware at 6:18PM Pacific Standard Time."
Australian entrants need to submit their entries via the following social media channels by 8th October 2013 11am Eastern Standard Time.
4 Pines Brewing Company Instagram – @4pinesbeer
Feral Brewing Company Instagram – @feralbrewing
For more information on the World's Best Beer Trip head to www.worldsbestbeertrip.com.