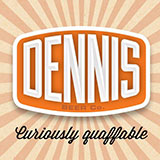 The space-theme you have going on is great – how did that come about?
Once upon a time in a brewery far far away…ha ha
We'd really love to say it was deliberate, but we kind of fell into it to be honest. We were in the early stages of coming up with names, throwing random suggestions around, and one of just blurted out with "c'mon this can't be rocket science", and it was that sort of light bulb moment where we all immediately just said, "that's it".
We then decided to name our first brew (an American Pale Ale) as Rocket Science Galactic Ale and on the back of that,did the branding artwork, and since that moment it's stuck. We've since made the hard and fast rule that every Rocket Science label has to feature our rocket scientist dude in the artwork. You'll see him riding a wave on label and firing a teapot on another. He's the man.
Now when we do a new brew we immediately start talking about the label and name as much as the brew style. We've been lucky to get a lot of positive feedback about our branding, which is quite funny given the impulsive thought that originally went into it. We had an unreal experience recently at The Oak Barrel where we met a lady who is an actual Rocket Scientist – she saw our stand and was straight over and into the beers. We might hire her as our ambassador if we start making money one day.
What inspired you guys decide to start a brewing company?
Both Mike & I (Dan) first met about twelve years ago when working for one of the big breweries. So straight out of uni we were in the beer game (and the envy of all our mates). We worked in the same team initially and became good mates; fair to say through a commonly shared warped sense of humour.
It wasn't until a few years after we had both moved on and taken different career paths, that we got our beer itch back. Mike came up to my place in Newy with a 4-pack of mixed craft beers and we started joking how we should have a crack. By this stage I'd met Steve, and we quickly brought him into the Dennis fold.
Despite much talk though, the absolute defining moment was at the Newcastle Craft Beer Dinner at the Albion Hotel back in 2011. I was listening to the brewers and their stories, and that triggered some late night, booze-fuelled text messages to Mike and it snowballed from there.
From the moment we decided we'd commit to it, we had our first brew done inside nine months. Pretty surreal looking back actually.
Were there any brands that inspired you?
That's a tough one. There is such a mixture of qualities amongst the craft brewers out there that are simply doing different things. It would be fair to say we've taken inspiration from a range of elements from here and there I suppose.
But, since the start of this journey we've definitely had a beer-crush on the Three Floyds guys from Chicago. We came across Zombie Dust (their APA) in the early stages of research and we just loved everything about how they positioned themselves and played with flavour profiles.
Since then however we've met – and come in contact with – so many more brewers and beers. Locally, Stone & Wood are hard not to be impressed by – from product to community engagement…they are doing a great job for the sector. But again there are so many others doing impressive things in their own right.
Did you have professional advice or was it a 'learn as you go' experience?
Between us we worked for a major brewery for collectively 15 years, so we've been fortunate to gain a good base of knowledge and contacts as well. That has definitely helped. But we've learned a crap load over the past 18 months, and changed and tweaked things to refine our brews and our processes over that time.
We've never shied away from the fact we don't know everything, and we seek advice when we can…luckily we've met some very smart and capable people in the craft beer community. Some of their advice has been really invaluable. So far we've refined brew profiles and recipes on the back of some of this feedback alone. It's valuable and important. I think we will learn as we go until the day we stop doing it.
You're contracted brewed right now – any plans to start your own brewery in the near/distant future?
Absolutely love to…but only when the time is right. From day one we've been very hands on in the brewing process. The recipes are our own; we get involved in the brewing, but essentially outsource the resources where we don't have the capital. It's been a lean startup approach with the focus being on building the brand in the right venues, getting our beers in the hands of the right craft beer drinker.
Whilst our volumes are small (aka 'nano') the upshot of this is it allows us to focus pretty acutely on getting our products right, and work with passionate and supportive craft beer outlets.
As our distribution grows we'd like to think our product and brand will be in a better position for the hard work we are doing now, and hopefully one day we can realise the dream.
What has the reaction been to your beer around the small bar scene in Sydney?
Yeah it's been unreal, and a bit overwhelming at times to be honest. When we sold our first keg of Galactic to Karl @ Yulli's we were high fiving each other. And then Dynn & Anna came on at The Little Guy quickly after. Since then we've been slowly growing our stockists outside of Sydney as well, mainly in Newcastle and Brisvegas, soon to be Adelaide, and now have venues sounding us out.
Like our peers, when you put so much passion and hard work into your own idea, it's a surreal feeling to see it out there. The small bar scene and their creative edge is definitely driving greater interest and demand for craft beers. They will continue to play a huge role in guys like us getting exposure and distribution to consumers that are into craft beers and interesting flavours.
What are you currently brewing and where will punters be able to get it?
We are a bit over 12 months old now and have five brews in the Dennis stable. In order of release they include:
Rocket Science Galactic Ale (4.6% APA)
Halo of Saturn Hop Behemoth (8.0% 2xIPA)
Rocket Science Californian (4.5% Californian Common/Summer Ale)
Rocket Science Red Planet (6.4% India Red Ale)
Rocket Science Mad Hatter (6.4% IPA)
We've got a steady crew of loyal venues supporting us across Sydney, Newcastle, Brisbane and a few on the outskirts as well. You're likely to find us at any of the following awesome places:
Yullis – Surry Hills
The Little Guy – Glebe
The Welcome Hotel – Rozelle
Forest Lodge Hotel – Glebe
Harold Park Hotel – Glebe
Harts Pub – The Rocks
Beer Cartel – Artarmon
Sydney Beer Merchants – Terry Hills
Porters Liquor – Balgowlah
The Brass Monkey – Cronulla
The Oak Barrel – Sydney
Station Bar – Katoomba
The Grain Store – Newcastle East
Albion Hotel – Wickham
Warners at the Bay – Warners Bay
Mark Hotel – Lambton
Prince Bottlo – Merewether
Tipplers Tap – Newstead
The Scratch Bar – Milton
Archive Beer Boutique – West End
The Burrow – West End
Flux Bar – Noosaville
Any new beer styles on the horizon?
For sure, we're always talking about new styles…for example, at the moment we are quite keen on releasing a Porter, and are about to brew up the first trial batch. Once we think we've nailed it we will start talking to some venues about giving it a crack for us.
But that said it's fairly likely we will come up with a random name and style over a few ales, and brew off the back of that. That's pretty much how most of the beers have come about so far. We try not to keep it too planned or formal.
What inspires you when it comes to creating recipes?
Well, the premise behind Dennis Beer Co is to create 'Curiously Quaffable' beers. So you could say we are into big and interesting flavours. We try and mix it up, and ultimately brew the type of beers we enjoy drinking. That said we are conscious of trying not to forget the criticalelement of balance.
We have a couple of key ingredients that we love and they tend to appear in virtually every beer, in differing quantities, but always present. Some will argue against this methodology but for us it's a bit like not picking your team in the weekly footy tipping comp – it just doesn't feel right!
In creating recipes we first like to push the boundaries toward what we find interesting and then we see what style box (or boxes) we are closest to. Our beer names link back to this, whereby they generally describe a key element of the brew without putting it in one particular style box.
For example,
Galactic Ale = Galaxy hops
Californian = Brewed with a lager yeast at high temp like a Californian common beer
Red Planet = It's red!
Mad Hatter IPA = Tea infused
Halo of Saturn Hop Behemoth = it's got a crap load of hops
What else do you hope to achieve with your brand?
Its funny, we recently did a beer dinner up in Newy where the night ended with Dennis Beer Co facing off in arm wrestle against a UFC fighter that attended the night. Totally unscripted & random. It was unreal…so more random nights where everyone is having a ball getting their science on!
Oh yeah, quality, consistency and sales – so all the obvious stuff too.
How to get your Science on?
Brisbane – Mark Woodward – 0407 801 950
Adelaide – Michael Sawyer – 0404 091 361
Sydney and the rest of the Galaxy – Mike Archer – 0401 715 772