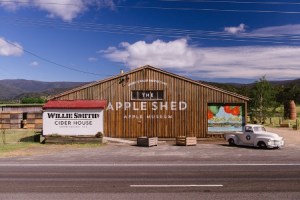 The team from Willie Smiths has announced that its latest development, The Apple Shed, has been officially opened to the public. The Apple Shed occupies a refurbished apple packing shed on the Smith family's orchard in Grove, Tasmania, and will house a museum, a providore-style shop stocking the best of the Huon Valley produce and a "simple menu" developed using regional and seasonal produced, and designed to accompany the Willie Smiths cider range.
The new facility will form a major part of the Tasmanian Cider Trail, a major initiative of government and business in Tassie. The Apple Shed was developed at a cost of more than $450,000, including a State Government grant of $150,000. The Federal Government has committed $60,000 to the development of a cider trail through the $100 million forestry peace deal funding and the Willie Smiths team is confident The Apple Shed will play a key role in attracting visitors to the Huon Valley.
"We're conscious that Tasmania competes internationally for the tourist dollar and so we felt we had to do something world class to draw people down here and to do justice to the quality of the Willie Smiths Organic Cider," co-owner Sam Reid said.
"The Apple Shed is a place that both acknowledges the apple industry's significant and at times challenging history and celebrates its vibrant future through the development of the cider industry," added Andrew Smith, co-owner. "I hope it will be the epicenter of what is hopefully about to be an incredible boom for Tasmania."
You will find The Apple Shed at 2064 Huon Highway, Grove, Tasmania – and it is open seven days a week from 10am to 6pm in summer, and 10am to 4pm in winter. For more details, head along to the Willie Smiths website.