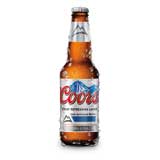 One of the biggest brands in American beer is headed downunder, following the launch of Coors in Australia by Coca-Cola Amatil (CCA), which has inked an exclusive agreement to distribute the Molson Coors range in Oz.
Brett Vye, Chief Commercial Officer for Molson Coors International, said "This is a market that we've always thought was a great fit for our beers. Our initial focus will be on Coors and Blue Moon Belgian White, but there are plenty of supplementary brands that could be introduced in time."
"We are delighted to welcome Molson Coors, one of the top 10 global brewers, into Australia and our customers are very excited about the entry of Blue Moon and Coors which cater to the growing taste for premium American beers in our market," said John Murphy, CCA's Managing Director Australian Beverages.Coors (which is known as Coors Light in the US and other international markets) is a pale lager, which weighs in at 4.2% ABV. It will be sold in 355ml bottles, and is available from all major liquor retailers for $46.99 per case.