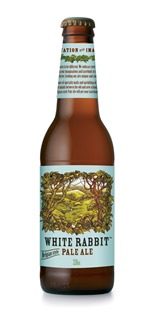 The latest creation in theWhite Rabbit range has been unveiled, a Belgian style Pale Ale.
Available nationally on tap and in pack, the beer reflects White Rabbit's history of mixing old world brewing techniques with new world thinking.
"The White Rabbit range has always been about creating flavoursome and balanced beers and our Belgian style Pale Ale is no different- it's definitely a labour of love. For our newest release, we've used a classic Belgian yeast strain to give the beer an air of mystery while producing a beautiful balance of delicate fruit esters and subtle spicy notes," said White Rabbit head brewer Jeremy Halse.
"We've also used truckloads of aromatic hop flowers in our hop-back giving our ale some of that 'new world' character and complexity we all love. Combined with a blend of specialty malts, our beer delivers a distinctive punch."
White Rabbit marketing manager Ash Cranston said that after more than three years since the company released a permanent beer for White Rabbit, they're excited at the prospect of adding another beer to the range.
"Our brewers had been playing around for a while with the style and the time was right for us to bring out our own take on a Pale Ale. It has allowed us to provide a year round option for Rabbit lovers to support the already well known Dark Ale and White Ale," Cranston said.
"The brewers had looked at every avenue when developing this new beer – yeast, hops and malt. Nothing was out of the question when it came to how Rabbit would make its own version of pale ale."