Young Henrys release latest Brewers B-Side in time for Summer – From Where You'd Guava Be Passionfruit & Guava Sour (4%) is the latest release in the Newtown brewery's much-loved Brewers B-Sides series where their brewers get to flex their skills outside of their daily commitments. Released now, and the biggest B-sides release to date, the sessionable sour was created by head brewer Jesse Searls and brewer Andre Keller with Summer sessions in mind. Hazy and light gold, you get big tropical wafts of passionfruit and sweet guava and even with the tang of the sour fruit punch the sweetness from the German Pilsner and wheat malts rounds it out as it goes down exceptionally smooth. "Whilst a super sessionable beer to drink, it was a pretty complex brewing process, with multiple fruit injections and intricacies in order to achieve the flavour and aroma we wanted," Jesse said.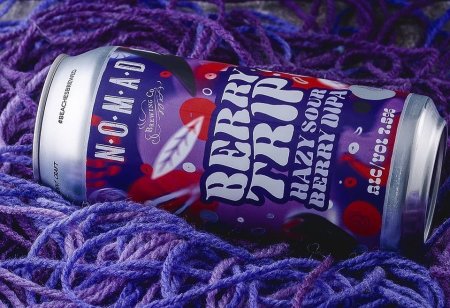 Nomad drop a hazy, sour trip of a berry DIPA – Sour season is alive and well and Nomad Brewing Co have added a wild one to the list with their Berry Trip Hazy Sour Berry DIPA (7.5%). Like something concocted in the hallucinogenic halls of Wonka's factory, with it's bubbling-over frothiness, electric Kool-Aid red hue and murky, impenetrable presence, it's certainly one to turn on, tune in and drop out to in these warmer times. The IPA base is there, in both aroma and flavour, with the fruity Ekuanot and Simcoe hops adding to the overall berry-niceness of the whole package. The good whack of fresh raspberries, blackberries and strawberries deliver a tartness without being too sour before a quenching grapefruit-like bitterness appears at the end. The big booze is barely detectable but, like any trip taken, it takes a while for the hit to come on.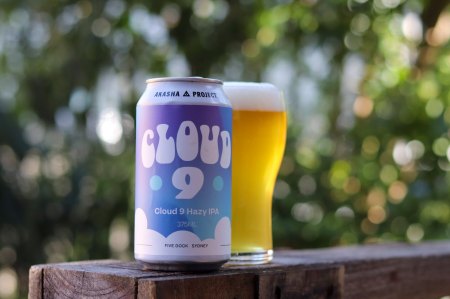 Akasha bring back Cloud 9 Hazy IPA – Akasha's newly minted special release series Akasha Projects continues with the return of another much-loved hop bomb from the Five Dock brewery. After their flagship – the Korben Double IPA – was brought back this time last month, Akasha have again gone back to the well by re-releasing the crowd favourite Cloud 9 Hazy IPA (6.2%). Unlike many of the hazy IPAs running around, this has a clear start, middle and finish for a narrative of delicate complexity. You can smell the passionfruit from across the room and on closer inspection there's skunk weed and bubblegum on the nose too. Haze is subtle (in the sense that we've come to define the word 'hazy') and boasts more of a hoppy shimmer, like a thin mist of cloud descending on a sunny day in the glass. Passionfruit continues in the flavours, along with peach, before an orange sherbet fizz, with licks of honey, hit the mid palate while its creaminess, balanced with herbal bitterness, combine to take you to where this beauty of a beer is named after. There's no boozy burn or any overt malt sweetness either.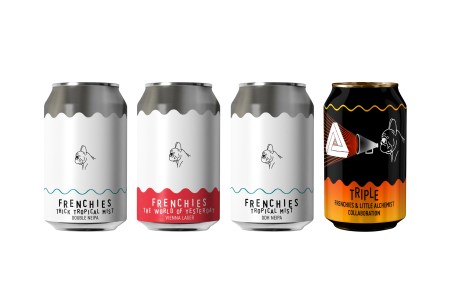 Frenchies deliver four of the best – Sydney's Frenchies Bistro & Brewery's prolific output in cans in 2020 continues with four new ones to try. The World of Yesterday Vienna Lager (4.5%) celebrates the fact this style is making a comeback but also the 1942 Stefan Zweig novel of the same name. This malty, hoppy, amber lager is as complex as lagers can be. A collaboration with fellow Sydney brewery Bracket, it's brewed in the traditional way using the best Pilsner, Vienna and Melanoidin malts along with delicate German noble hops, it is rich in flavour yet incredibly refreshing. The Triple Strong Belgian Golden Ale (9%) is brewed with eight different types of grain which feeds a fruity abbey yeast. The result is a strong golden ale with an incredible array of flavours and depth. The Tropical Mist DDH Cryo NEIPA (7%) is the first of a duo that continues the brewery's run of DDH releases. It's fermented with a blend of slightly estery and super hazy American East Coast yeasts which complements the use of big US hops Strata, Mosaic, Sabro and Columbus. Cryo version of those hops were used also. If that wasn't a hop bomb enough for you upgrade to the Thick Tropical Mist DDH Imperial Cryo NEIPA (9%) where the not so little sibling's hop line-up is used again albeit with Columbus swapped out for Simcoe.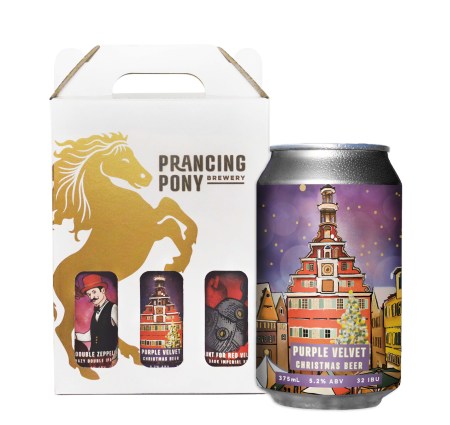 Prancing Pony's Christmas beer and gift packs – To get your hands on Prancing Pony's new Christmas beer Purple Velvet you'll need to purchase their Christmas Limited Pack that is out now in selected indie retailers. The pack contains two cans of Purple Velvet, Hunt for Red Velvet Imperial Red Ale and Double Zeppelin NEIPA. Prancing Pony have also released two other gift packs for Christmas that feature two cans of each beer. The Easy Pack has Sunshine Ale, Hopwork Ale and XPA Session Ale and the IPA pack has Zeppelin NEIPA, India Red Ale and The Piper WCIPA. The Purple Velvet Christmas Beer (5.2%) is the South Australian brewery's second "liquid cake beer" following the much-loved and oft released Hunt for Red Velvet. It takes its inspiration from Lebkuchen – the honey-sweetened cake-cum-cookie first made by monks in the 13th century that is now a traditional staple in Germany at Christmas. It's a hopped up variant of a dark Hefeweizen that combines a distinct chocolate malt sweetness and true-to-style banana and clove notes with spicy and floral characters from the hops and additional flavours of berries, vanilla and herbs.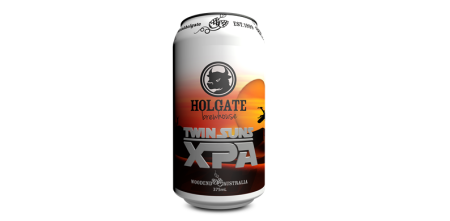 Holgate Brewhouse Twin Suns XPA (5.55%) – The Holgate brew teams' love for Star Wars-inspired beers continues with their latest XPA release Twin Suns featuring the iconic X-Wing Starfighter on the can art. Following the Millennium Falcon Imperial IPA and a "new and improved" follow up to their X-Wing XPA, the sessionable Twin Suns features a hop line-up of Azacca, Citra, Idaho #7 and Mosaic for massive tropical aromas (with piney hints) and flavours all underpinned by a lean malt body and lingering bitterness to finish. Like a Tatooine sunset, it's burnished gold to amber in the glass with a fine, clingy foam. Perfectly matched with a binge session of The Mandalorian.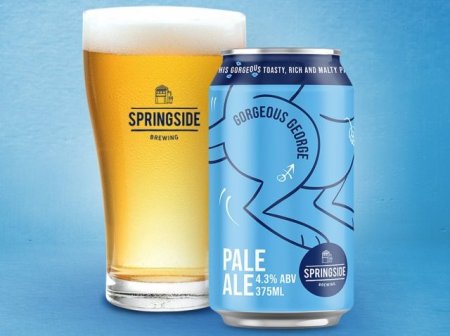 New Sydney brewery Springside deliver a gorgeous Pale – Rozelle's Springside Brewing have sprung on the scene with their first release – the Gorgeous George Pale Ale (4.3%). With subtlety at its sessionable heart, it allows its key components to jam away without any player stealing the stage for a balanced beer that makes you look forward to what will come next from Springside. A gorgeous gold in the glass, there's gentle hop aroma, flavour and bitterness from the Centennial and Cascade dry hop and whirlpool while the good depth of malt flavour delivers a big, crisp mouthfeel in conjunction with a carbonation that's well in check.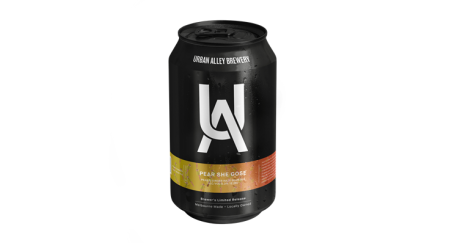 Urban Alley's latest sour – Hot on the heels of their well received recent release Man-goes Nowhere Isolation Sour Ale, Docklands' Urban Alley dish up another – the Pear She Gose Pear & Ginger Hazy Sour Ale (5.3%). If there are still any COVID-infections lurking in the back alleys of Melbourne then this might put pay to it – or at least keep the doctor away from your next throat tickle such is its ginger zing. Delicate white pear aromas are quickly followed by a big dose of real ginger spice. The dry, ginger ale-like flavour balances perfectly with the carbonation for a big mouthfeel where that ginger zing and subtle fruit souring combine for a tingly sensation as its swallowed. And in keeping with the added fleur de sel's usage as a finishing agent, the slight saltiness just further adds to the balanced experience.