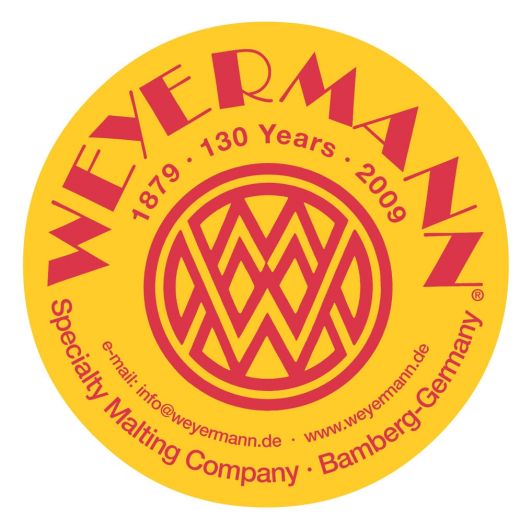 September 2011 – For almost two decades, Crosby & Baker, Ltd. (C&B) of Westport MA,a supplier of ingredients and equipment to breweries and homebrew supply shops as well as wine-makers, has been the United States importer and distributor of the Weyermann® brand of malts and malt products. In May 2011, Brewers Supply Group (BSG), a wholly-owned subsidiary of the Rahr Malting Co. of Shakopee MN, and a well-established wholesaler of brewing ingredients, concluded an agreement to purchase C&B, which means that Weyermann® now has a new home in the United States.
C&B and BSG have been icons in the brewing materials supply field, both with strong brand portfolios—C&B since 1968, and BSG (formerly Brewers Wholesale) since 1997. By combining the staff, facilities, resources, and portfolios of the two companies, BSG will be able to provide even better and faster services to the customers it serves.
Commenting on the transfer of the Weyermann® brand to BSG, Sabine Weyermann, CEO of Weyermann® Malt, said: "Weyermann® has been with C&B as a sole importer into the United States ever since our first entry into the American market in the mid 1990s, and we have always been well served by C&B. As C&B grew and expanded over the years, so did the sales of Weyermann® products. At this point in time, however, we believe that the acquisition of C&B by BSG makes perfect sense because both companies have been largely servicing the same markets. I am convinced that combining the two companies into one by merging their sales forces, accounting infrastructures, and warehousing facilities across the United States will generate spectacular synergies for the benefits of everybody involved. This includes Weyermann®, BSG, and especially the brewers that rely on our products for their beers."
"We want all our loyal customers in the United States to know that the reliable supply of all Weyermann® malts and malt extracts will continue without interruption. As the consolidation of the two companies is being implemented during the next few months, we will keep you abreast of any logistical and procedural changes as they come about, and we will tell you about any improvements in services. As we move into the future with BSG, Weyermann® will continue to set the standards for great malt and the great beers that you make with it, and we are confident that you will be pleased with the "new" BSG as your partner and one-stop source for all your brewing needs, including your trusted Weyermann® malts."
Henceforth, all BSG professional brewing materials, including Weyermann® malts and malt products, will be shipped from regional distribution and warehousing centers in Providence RI, Atlanta GA, Baltimore MD, Kasota MN, Denver CO, Hayward CA, and Vancouver WA. All BSG homebrew supplies will be shipped from Westport MA and Salt Lake City UT. The billing systems of C&B and BSG are still in the process of being merged and you may receive old-format invoices for a few more months. All accounting operations, however, should be completely integrated by the end of September, as will be the sales and service operations. Meanwhile, below is an interim list of contacts for ordering as well as for any technical support questions you may have. Please continue to ask for advice about Weyermann® products, processes, or recipes, just as you have done in the past.
Meet Sabine & Thomas and the BSG team in Denver for the GABF!
Important New Contact Information
Brewers Supply Group Headquarters
Ian L. Ward, President
Address:
800 West First Ave, Shakopee, MN 55379
info@brewerssupplygroup.com
http://www.brewerssupplygroup.com
Contact for Brewery Customer orders and information:
Phone: 800-374-2739
Fax: 952-224-1390
Contacts by Sales Region:

Northeast: Judy Nadeau 508-971-6177 jnadeau@rahr.com
Southeast: Jim Gizelbach770-634-0234jgizelbach@rahr.com
Midwest:Chris German 651-357-2427 cgerman@rahr.com
Gulf States:John Guzman 817-995-6094 jguzman@rahr.com
Mountain:Chad Hatlestad 970-214-3186 chatlestad@rahr.com
West Coast:Marc Worona 707-815-1576 mworona@rahr.com
Northwest:Bill Pengelly 541-419-3511 bpengelly@rahr.com
Contact for Homebrew Supply Shop orders and information:
Phone: 800-999-2070 (Westport)
Phone: 800-666-2440 (Atlanta)
Phone: 877-675-9463 (Salt Lake City)
For further information visit:
www.weyermann.de
www.weyermannmalt.com
www.brewerssupplygroup.com
The Weyermann® Malting Company was founded in 1879. Today, it produces more than 80 varieties of malt and eight varieties of malt extract, as well as SINAMAR® and BIO-SINAMAR® All-Natural Liquid Color Malts. Weyermann® services almost 3,000 brewery customers and wholesalers in almost 120 countries. For further information about the Weyermann® Malting Company and its products contact sabine.weyermann@weyermann.de.