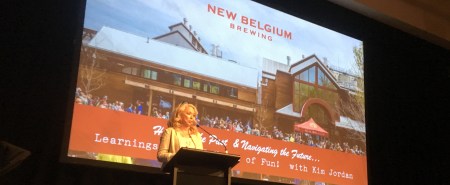 One of the pioneers of the craft brewing industry in the US has praised the Independent Brewers Association (IBA) and its Seal of Independence, describing it as a way to "terrify the dinosaur" of big beer.  
Kim Jordan, the co-founder and former CEO of New Belgium, was the keynote speaker at the 2018 edition of the IBA's annual conference, BrewCon, held in Sydney this week.
In a wide-ranging address to the Australian independent brewing industry, Jordan spoke about her nearly 30-years of experience in the beer world, how the beer landscape has changed, and the value of remaining independent in an age of buy-outs and acquisitions.
"We possess incredible stories as independent brewers; our community involvement, our iconoclastic nature," said Jordan.
"We're amazing touchstones, we support a lot of varied causes and events and commitments to all kinds of interesting business practices, and not to mention our distinct facial hair – we're intriguing in so many ways.
"And the big brewers can't own that, they can only borrow it or buy it. Jorge Paulo Lemann of 3G Capital, the owner of AB InBev, said: 'I've been living in this cosy world of brands and big volumes'. He admitted that craft beer had took him by surprise and added: 'in an age of disruption, I'm a terrified dinosaur.'
"We need to continue to terrify the dinosaur. I think the Independence Seal, the coming together as a community of independent brewers, is really important to our future – and our success as a collective."
Jordan also stressed the importance of cooperation and a shared vision when dealing with legislative and regulatory bodies, as well as the press – especially given the small market share of independent beer in Australia.
"When you do really fresh, cool and innovative kinds of things, your brethren benefit from that because you all own this collective brand called 'Australian Independent Craft Brewers'," she added. "Conversely, when you do things that are questionable, that also affects the brand."
As the industry grows, Jordan also noted that the level of pressure it faces is likely to increase too, with brewery buy outs, hop shortages, competition for tap contracts, and intellectual property issues (when naming a beer) highlighted as potential flashpoints for conflict.
"I encourage you to pick up the phone, have a conversation that's focused on best outcomes for everyone involved and keep the collegiality and conviviality high in the process, because it's kind of like when your friends get a divorce – you don't really want to hear about all the stuff that went on, you just want to go back to having fun – and it's the same for our beer drinking customers," she said.
A genuine concern for beer quality – as "not only table stakes, but part of our collective legacy" – was also raised as a critical factor in the growth of the independent brewing industry in Australia.
"Step one is to know your beers: do you have written flavour profile standards for all of your beers? Do you know what the shelf life of your beer is, if stored in optimal conditions, but what about in suboptimal conditions?
As an example, Jordan explained that every beer produced by New Belgium is tasted and analysed at least 25 times throughout the brewing process – from raw materials through to the finished product pouring from the tap.
"Make sure you have a sensory team, and make sure you're evaluating your beers," she told the audience. "These beers are your babies and they're all beautiful but have someone who will tell you which babies are uglier than others because that's an important part of becoming better brewers."
"Your customers are still younger to this than ours in the US… but I think that at the same time they will get more sophisticated and begin to discern the good, the bad and the ugly, and that affects all of us."
Another piece of practical advice highlighted by Jordan for the brewers in attendance was specifically budgeting for bad and out-of-date beer.
"We make a living food, and we need to be able to be honest and free ourselves up to admit that sometimes you have to pull a beer."
Nonetheless, the prevailing tone of Jordan's address was one of optimism, the New Belgium co-founder commenting: "It's easy to forget – as your industry grows, with all the legislative and commercial stuff to be done – that we are the newest inhabitants of a long line of artisans.
"It's an honour to do that and we should give it our very best attention."