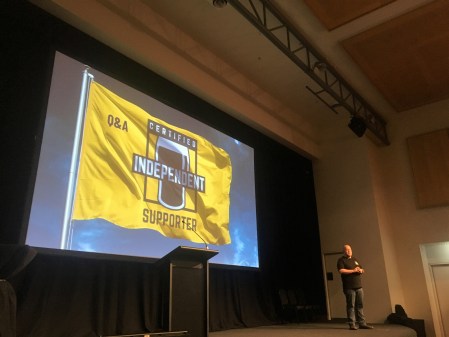 The Independent Brewers Association (IBA) has today revealed a long-term goal to grow the market share for independent beer in Australia to 15 percent by 2025.
"Our big, very audacious goal – of course the biggest risk to this one is merger and acquisition activity – is to get to 15 percent of market share of total beer by 2025," said Ben Kooyman, IBA Board Chair and founder of Endeavour Brewing Co., at BrewCon in Sydney.
One key pillar supporting this goal is raising awareness and support among consumers for indie beer – with the recently launched Seal of Independence the main tool to do so.
"There was obviously the massive launch of [the independence seal] in May, but it's a long-term drive," Kooyman explained. "This is a sustained campaign, it wasn't just a one-off and something we'll use now and change next year – this is our seal and this is what we live and die by."
However, the challenge facing the independent brewing industry in pursuit of this goal is not insignificant, as Marcella Merck, Managing Director of the Amber River Group, detailed.
"Independent brewers make up 97 percent of the number of brewers in the country, but you're only producing – by volume – just over two percent.
"The IRi data shows us that 'craft' beer as a segment, by retail output, makes up 9 percent of retail dollars. Within that segment, independents sit at just over two percent.
"What it doesn't show you though, is that independent brewers specifically are driving 27 percent of growth within the craft segment itself. It's not just the big brands – the big brands aren't able to grow at the same level as you guys."
Clearly, there is still plenty of room for growth for independent brewers in Australia; the exact percentage of market share (2.43 percent) pales in comparison to Britain (6-7 percent) and the US, where independent beer accounts for an astounding 23 percent of market share.
"They [the statistics] are not benchmarks, but a good guide of where you sit now, peer to peer," Merck added. "You can't measure progress without a starting point and this is a starting point."
The full report – with the data an aggregate of contributions from the IBA, Beer Cartel, IRi, Survey Matters and the ATO – is slated to be available in August.
Kooyman was also asked if the Seal of Independence would be opened to independent breweries who are not members of the IBA.
"We've been approached by people who would like the Seal, but I'll be upfront: there will be a cost or a licensing fee, and you'll still have to fall under the definition [of independent]. But if you want it right now, you'll have to join as a member.
Other future 'deliverables' for the IBA include looking into the launch of the first annual 'National Independent Beer Week', and further lobbying with the ACCC to push for fairer market access for indie brewers.